'We want to finish the season with two more trophies'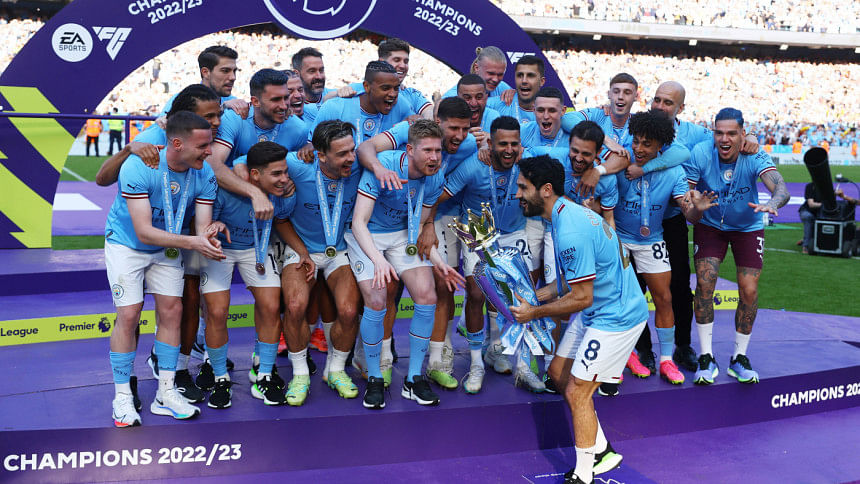 Ilkay Gundogan has urged Manchester City to stay focused as the Premier League champions prepare for the climax to their treble bid.
City were crowned English champions for the fifth time in six seasons on Saturday when second placed Arsenal lost at Nottingham Forest.
Pep Guardiola's side enjoyed their title party on Sunday with a 1-0 win against Chelsea before skipper Gundogan lifted the trophy.
With their third successive title in the bag, City can focus on emulating the Manchester United team that won the Premier League, Champions League and FA Cup in 1998-99.
But before that City must finish their league campaign with trips to Brighton and Brentford on Wednesday and Sunday respectively.
City, winner of their last 12 league matches, are unbeaten in 24 games and German midfielder Gundogan is wary of losing momentum.
"We haven't lost any games for so many weeks and that's the standard that we have to set for ourselves," he said.
"We do nothing different - we do the same things that we've done in the last few weeks and hopefully it can be a really special end to the season.
"I love the club and being part of this amazing team. Obviously, we want to finish the season with two more trophies.
"We have two more big finals, and the last two games of the Premier League season are going to be preparation for that. We don't want to drop anything. I would love to lift two more trophies."
City's treble chase comes down to two matches as they face Manchester United in the FA Cup final at Wembley on June 3, and Inter Milan in the Champions League final in Istanbul seven days later.
Belgium midfielder Kevin De Bruyne, who like Gundogan is now a five-time Premier League winner, is confident City can do something "special" at the end of their latest triumphant campaign.
"We like to win, and we're never bored of it. We've won a lot in the past but we want to win again and again," De Bruyne said.
"We keep on working. We enjoy the games against Brighton and Brentford and prepare for United and Inter and hopefully we can do something special.
"Everybody wants it. We know we need to win two games, but they are hard games, and we need to prepare ourselves the best as possible and hopefully we can win them."