Tough friendlies ahead for Bangladesh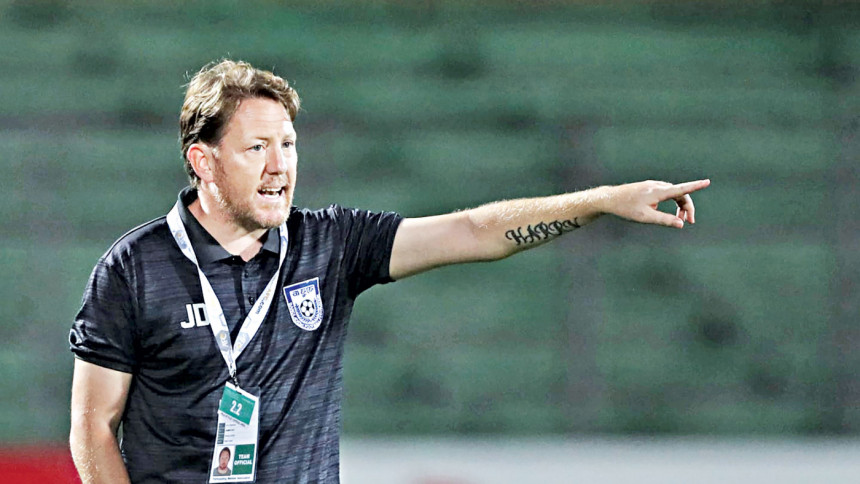 After being demoted four places to the 188th position in the FIFA World Ranking on Thursday, Bangladesh national football team are scheduled to play against two superior sides -- 101th-ranked Kyrgyzstan and 102nd-ranked Palestine – between August 30 to September 7 of the upcoming FIFA window.
Apart from these two matches, the men in red and green are also slated to play against Kyrgyzstan U-23 side. All three matches are considered as part of the national football team's preparation for October's SAFF Championship in Maldives.
"We are going to Kyrgyzstan to play three international matches against Palestine on September 5, Kyrgyzstan on September 7 and Kyrgyzstan U-23 on September 9 under the FIFA window as part of national team's preparation for upcoming SAFF Championship," Bangladesh Football Federation (BFF) vice-chairman Kazi Nabil Ahmed told the reporters in a virtual press conference after the meeting of the National Teams Committee.  "We are hoping to get the final approval from FIFA by Monday about the FIFA friendlies under its window," Nabil added.
The charges of Jamie Day, who has been in quarantine after arriving here yesterday morning, are expected to fly out for Kyrgyzstan on either August 31 or September 1 following the completion of ongoing Bangladesh Premier League on August 27.
"Upcoming games will be tough but it may be an opportunity to implement tactical variations with SAFF tournament in mind," said Day while adding that he is not inclined to bring any massive change to his 27-member squad.
Following the matches in Kyrgyzstan, the booters are expected to return home on September 11 and join a 10-day national camp for October's SAFF Championship on September 18 as the Bangladesh Football Federation will look to complete three pending premier league matches of Bashundhara Kings, who are now in Maldives to participate in the AFC Cup from August 18 to 24.
Meanwhile, Bhutan failed to get their government's permission to participate in the SAFF Championship, leaving the regional football tourney with a five-team competition in which the top two teams will play the final following a round-robin league format.
Replying to a query, BFF vice-chairman Nabil said, "As the SAFF championship will be held on a round-robin basis, our chance will be fair because we will get an opportunity to play against all participants, so our team will be able to show their real performance. Also, we are getting more time to prepare this time due to the three matches against strong teams in Kyrgyzstan and with a 10-day training camp in Dhaka.
We might not have produced good results in the past due to luck or bad performances but this time we are looking to give our best effort."  
Nabil also informed that they are planning to avail the November 8-16 FIFA window to play two international matches against either Mongolia or Nepal as the discussion with the two associations is going on.
Among all five participants of SAFF Championship, Bangladesh are only ahead of 205th-ranked Sri Lanka but behind 105th-ranked India, 158th-ranked Maldives and 168th-ranked Nepal.