The equations in race to make SAFF Championship final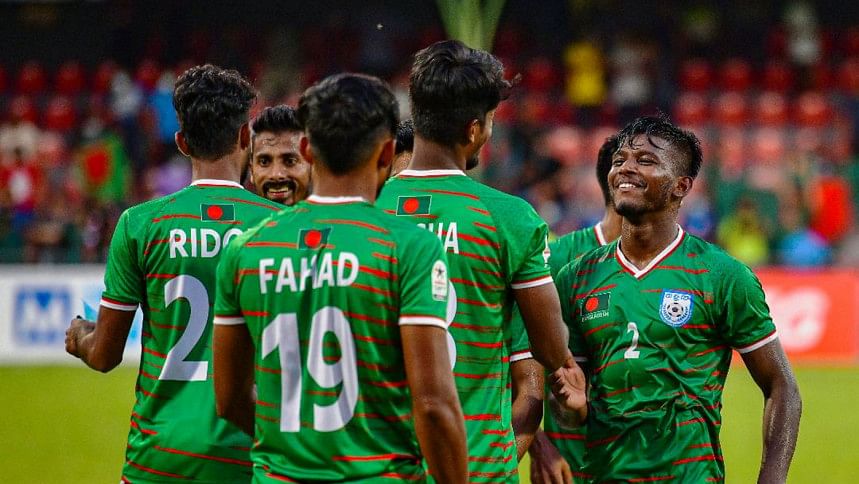 Will a victory over Nepal be enough for Bangladesh to make it through to the final of the SAFF Championship?
'Ifs and buts' remain but there will be more clarity on which teams will go through after the fourth match day on Sunday, when India play against Nepal and Maldives take on Sri Lanka.
The loss against Maldives was costly for Bangladesh, who must beat Nepal in their last match to keep their hopes of playing the final alive.
Nepal currently lead the five-team table with six points from two matches. Bangladesh are at second with four points from three matches while Maldives India and have three and two points respectively. Bangladesh played one more match than both Maldives and India, who have each played in two matches so far. Sri Lanka have already been eliminated with one point although they still have one match to go.
NEPAL: Nepal can still secure a maximum of 12 points and finish top of the group if they beat India and Bangladesh in their next two matches. If they win one of their next two matches, Nepal will secure a final berth. Even If Nepal can avoid defeat in both matches, they will also make it to the final. If they secure one point from two matches, they will be left with a chance to play the final but in case of defeat in both matches against India and Bangladesh, they will certainly be out of the running for a place in the final.
INDIA: With two points from as many matches, seven-time champions India still have a strong chance to collect a maximum eight points to qualify for the final. To secure those points, they must beat Nepal and Maldives in remaining two matches. If they lose points in any of their remaining two matches, their chances of playing the final will be significantly reduced. If India collect six points from four matches that may not be good enough to play the final.
MALDIVES: Hosts Maldives are one of contenders to make the final following their 2-0 win over Bangladesh. Maldives can manage a maximum of nine points if they beat Sri Lanka and India in their last two matches. If Maldives draw one match and win one match, they will have seven points, which may be good enough to play the final as they are ahead of Bangladesh on the head-to-head count. But one win and one defeat will significantly reduce their chances of making the final.
BANGLADESH: Bangladesh having four points in three matches and can collect a maximum seven points but their chance to qualify for the final depends on the results of Nepal, Maldives and India.
Any result other than a win will put Bangladesh out of running for the final.
If Nepal can take a point from India, then they will have equal points with Bangladesh subject to Bangladesh's win over Nepal and in that case, the booters will have head-to-head advantage over the Himalayan nation.
Maldives also have a chance to equal Bangladesh and Nepal's point haul if they collect four points from two matches. In that scenario, Maldives will have advantage over Bangladesh while Nepal have advantage over Maldives in terms of head-head results between the sides. If head-to-head results cannot separate the three teams, then goal difference will come to the equation. If the teams cannot be separated by goal difference, goals scored will count and Bangladesh may fall behind in that case and Maldives and Nepal are likely to move to the final.
SRI LANKA: Sri Lanka having one point from three matches and have already been ousted from the race for the final but they can raise their tally to four, subject to an outright win over Maldives. If they can snatch any points in their final match, hosts Maldives will have to pay the price.