Support aplenty for men in red and green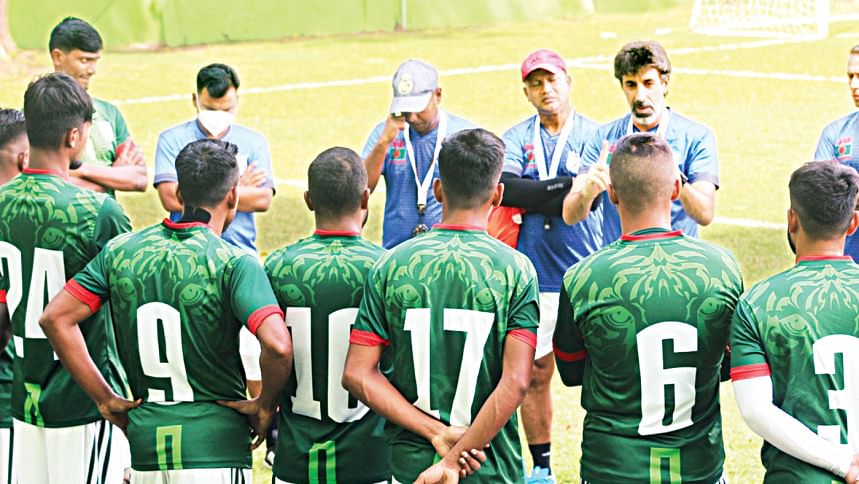 "I have already bought a ticket to watch Bangladesh's opening match against Sri Lanka after standing in a long queue on Wednesday. Many Bangladeshis living here are also waiting to buy tickets," expatriate Mansur Ali contentedly answered ahead of the start of the SAFF Championship in Male today.
There may be less enthusiasm among locals for the SAFF Championship, but there is no shortage of excitement among Bangladeshi expatriates, especially for matches featuring Bangladesh.
Hoping for a winning start against Sri Lanka, Shakil Ahmed, a hotel employee, said: "The match between hosts the Maldives and Bangladesh will be interesting and I want to enjoy that match from the gallery."
Whatever Bangladesh produce on the field under the guidance of new coach Oscar Bruzon, they will undoubtedly get whole-hearted support from their supporters as they aim for a first SAFF Championship final appearance in 16 years.
Bangladesh captain Jamal Bhuiyan expects plenty of spectators to turn out and support them from the gallery throughout the tournament.
"It is good that Bangladeshi fans are here to support us. We are really happy about that. Yesterday (Wednesday), some expatriates came to watch our practice. So, that is extra motivation for us. Hopefully, we can give something back to them," Jamal told journalists outside the press conference room, also sharing his thoughts on the match against Sri Lanka, who Bangladesh last defeated 3-0 during the Bangabandhu Gold Cup in early 2020.
"I'm not worried about the previous matches. It is a new match and we will have a different attitude because each game is different and we have to think about the new game. Each game is like a final, so tomorrow we are going to have a good attitude and we will go forward," Jamal said.
The 9,000-capacity stadium, situated in one part of the 8.30-square-km city, is likely to host only half of its capacity due to Covid-19 regulations and restrictions.
Although the festivity of the SAFF Championship is not widespread in Male, some streets have been decked out in national flags and taxi driver Ali Kadir Ghani was well-aware of the decorations around the city as well as at the stadium, which was revamped ahead of the championship.
Similar to the uplift in regards to the stadium, Sri Lanka's Bosnia-born-Australian coach Amir Algic wants to lift up his charges through a good show against Bangladesh. The Islanders feature a few overseas forwards like England-based Marvin Hamilton, Queen Park Rangers U-23 striker Dillon De Silva and German-based Ahmed Wazeem Razeek.
"The first game is very important for every team to raise their standards and expectations," Algic said at a press conference ahead of the opening match.
However, Bangladesh captain Jamal Bhuiyan wants to remain positive till the last whistle.
"We want to start the tournament in a positive way and play 90 minutes of possession football. I hope we can do very well against Sri Lanka and the main goal is to get three points tomorrow."