Starry-eyed U-15s reunite with heroes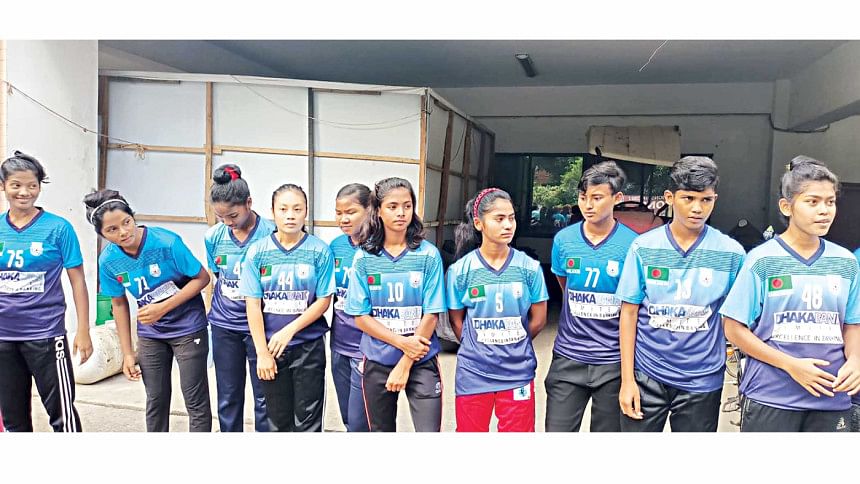 Aspiring stars, gearing up to take Bangladesh women's football forward in future, could not wait to embrace their beloved elder sisters at the BFF Bhaban yesterday as the 2022 SAFF Women's Championship-winning team were on their way to the Bangladesh Football Federation (BFF) headquarters in Motijheel yesterday.
It seemed a never-ending wait for the Bangladesh Under-15s who waited from the afternoon to welcome the victorious women in red and green, who reached there after having paraded through the streets of Dhaka on an open-top bus for over four hours.
An air of anticipation engulfed the BFF headquarters. Many repeatedly had asked reporters the arrival time of Sabina Khatun and company. "They gave us loads of courage. My coach, Monica [Chakma] apu, and Ritu Porna [Chakma] apu gave me the confidence of wearing the national colours while coming from the hill tracks," said Umeha Marma, who hails from Rangamati.
"It's a huge achievement. We can't wait to enjoy these moments with them. It seems like time has stood still," said an excited Puja Rani Das, who hails from Brahmanbaria.
"Now our job will be easy because they showed our women can achieve great things in sports. You know in our locality [Brahmanbaria] many can't appreciate women pursuing sports. But following this great achievement, we can hope that they will have some food for thought and will reconsider their stance," Puja added.
Ritu Akhtar was overwhelmed by the performance of her seniors. "We have been seeing them on television for a while now, and some of them are our roommates. We are thrilled! I think they played their best football in Kathmandu," said Ritu.
"What everybody is saying is that this win helps us to overcome our [U-15s] family's bleak financial conditions at present. After this SAFF triumph, my mother also reminded me to take football more seriously, so that we can also pull off something big," said Oishi.
Thui Nu Marma, who also hails from Rangamati, was dreaming of better days for her family from now onwards.
"I aspired to become a footballer when I saw Anuching Marma. I also want to become a quality player like my senior sisters so that I can make my parents happy. My parents are saying that if I can play good football, I will be able to take my family's responsibility," Thui said.