Saudi Pro League here to stay!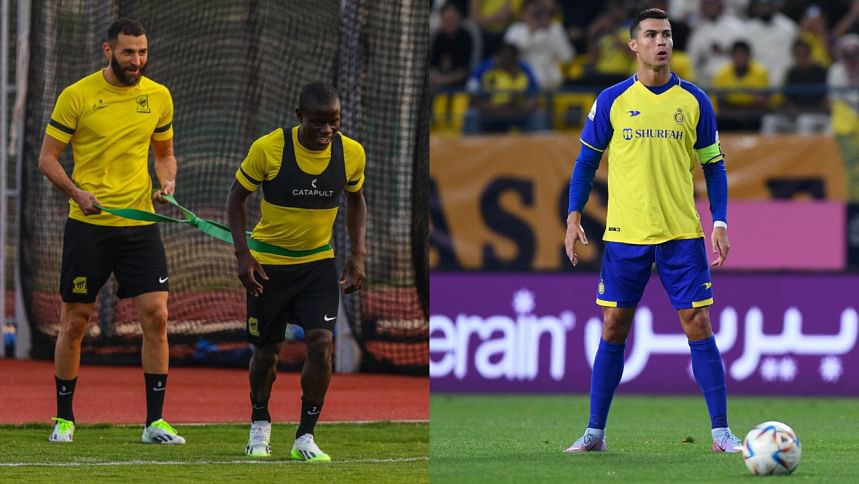 Links of Kylian Mbappe to Real Madrid, rumours of Neymar returning to Barcelona have been the commonalities of the transfer market over the past few years. This summer, however, in addition to the aforementioned sagas, the emergence of one major entity -- the Saudi Pro League -- has taken the transfer market by storm.
The stage was set late last year, though, after an unprecedented deal worth $200m-per-year saw one of the biggest names in football, Cristiano Ronaldo, move to Al Nassr from English giant Manchester United in the January 2023 transfer window.
Not only did that sensational move put Al Nassr on the map, it inevitably opened floodgates to the cash-rich Saudi Pro League. It is vividly evident this summer as a host of big names followed in the footsteps of arguably the most influential player of all time.
His former teammate in Real Madrid and the reigning Ballon d'Or winner, Karim Benzema, had tongues wagging with his move for free from the 14-time Champions League winners to Al Ittihad -- one of four clubs alongside Al Hilal, Al Ahli, and Al Nassr owned by Saudi Arabia's Public Investment Fund.
German champions Bayern Munich saw Sadio Mane join Ronaldo at Al Nassr, Riyad Mahrez went to Al Ahli just after helping Manchester City to an era-defining continental treble. Meanwhile, N'Golo Kante, Ruben Neves, Edouard Mendy, and Kalidou Koulibaly all have been just a part of the major influx of players from Europe to Saudi Arabia.
Such big names being lured out of a continent that has ruled the sport for ages was bound to strike a nerve; and it did. Liverpool manager Jurgen Klopp thought the fact that the Saudi transfer window closes on September 20, three weeks after it shuts in Europe, would have a "detrimental effect" on the sport. Meanwhile, according to City manager Pep Guardiola, the Saudi league has "completely changed the market" while Klopp admitted it is something that the European managers now "need to deal with".
With the Saudi league creating more adversaries than cohorts, the most scathing judgment on the league was probably passed by Barcelona president Joan Laporta, who saw one of his summer targets Marcelo Brozovic choose Al Nassr over a move to the Spanish club. According to Laporta, the gold rush to the oil-rich Gulf state has "no sporting reasons", hinting at unmatchable, and at times outrageous, deals offered by the Saudi clubs being the sole motivator for players.
Even though the Saudi league has reportedly failed in their attempts to get seven-time Ballon d'Or winner Lionel Messi and 24-year-old Mbappe, who has already let PSG know of his willingness to switch, a suggestion that the league offers no sporting reasons to players is arguably harsh.
While Ronaldo left for the Saudi league at 37 with the best parts of his glittering career in the rear-view mirror, it remains hard to consider someone as professional as the Portuguese would choose to jump ship only due to financial incentives -- especially since lack of a promising sporting plan and infrastructure had somewhat contributed to Ronaldo's decision in cutting ties with Manchester United despite having been their previous season's best player.
It is true that other than Ronaldo's countrymen Neves, 26, most players that moved to Saudi are in their thirties. But that still does not mean that the likes of Kante, Benzema, Mahrez, Mane, Roberto Firmino, Mendy, and Allex Telles are done making claims for their respective national teams. On the contrary, most are mainstays in their national sides -- a fact that only shows that the Saudi league is far from being a retirement destination for players.
Also, Al Nassr refusing to go ahead with a deal for Chelsea star Hakim Ziyech following a reported knee injury implies that the Saudi project is not just about raking up the big names in football but one that prioritises a long-term vision -- unlike the case of the Chinese Super League, another Asian league that had injected serious cash to be a footballing force in the last decade but failed to see their vision through.   
What the Saudi league is yet to do is convince more players in their mid-20s -- the period when footballers are primed to leave their marks on the global stage -- move to the Middle Eastern nation and still maintain their status quo as one of the top talents around the globe.     
As things stand, the big spenders in Europe and the producers of footballing prospects around the globe are now well-aware of another major player in the market who could lure away their assets and targets. And it is probably going to stay for a while, relentlessly pushing to make Ronaldo's prophecy of the Saudi Pro League becoming "one of the top five leagues in the world".