Rakib, Badsha add to injury woes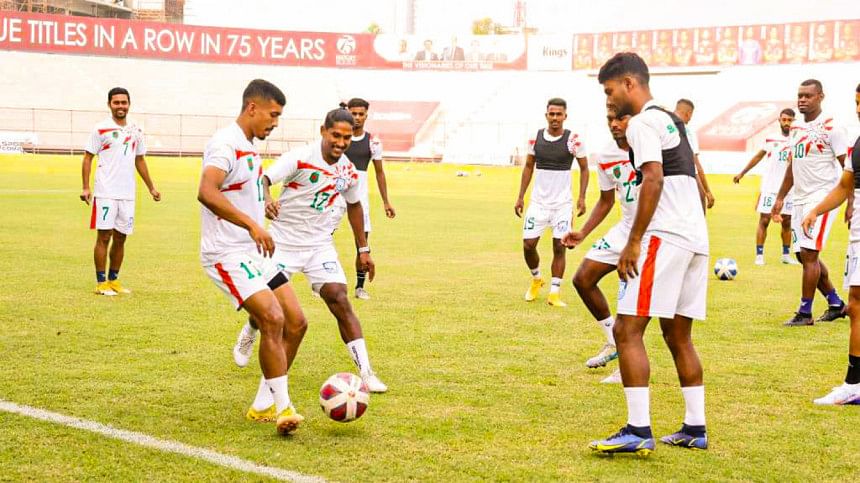 Forward Rakib Hossain was the latest to join Bangladesh's mounting injury list after centre-back Tutul Hossain Badsha was all but ruled out of the SAFF Championship, scheduled to begin in India on June 21.
Defenders Tapu Barman, Badsha and Rimon Hossain had joined the preparation camp despite contending with injuries, but none of them could train with the ball on the third day of the camp at the Bashundhara Kings Arena. Tapu and Rimon were only seen stretching alongside their teammates.
"The physio and doctor are working with them. Tapu and Rimon have improved but Badsha is uncertain. The doctor advised him to not wear the boots for two weeks due to a fungal problem in both feet. Badsha is in a difficult position," assistant coach Hasan Al Mamun told The Daily Star over the phone yesterday.
"There was no problem found with Tapu's hamstring after the test but he needs to improve the strength in his hamstring. He is in recovery mode while Rimon has an ankle injury and is also recovering," Mamun added.
"They are experienced and vital players, so we cannot take any risk with them in the friendly matches against Cambodia. We are expecting both to recover fully before the start of the SAFF Championship."
Tapu and Badsha are proven and experienced defenders in the 30-member squad, which also includes two more stoppers: rookie Mehedi Hasan of Mohammedan and Tarique Raihan Kazi of Bashundhara Kings. Right-back Bishwanath Ghosh has also been deployed in a more central role in the past.
"Rakib sustained a [hamstring] injury yesterday [Tuesday]. We will know more about his condition after tests," said the assistant coach, hoping that Rakib would also recover fully before the SAFF campaign.
"Rakib is a key player and is in our plans. There is no problem with the players in terms of fitness but we are wary of how soon they can recover from their injuries. It will be tough for Bangladesh to take part in the SAFF Championship without those experienced players."