Rabiul's maiden goal wins it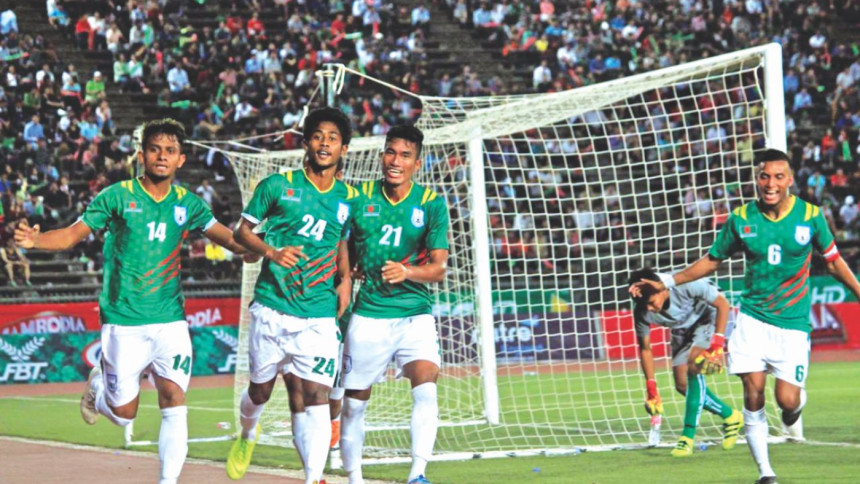 Young forward Rabiul Hasan scored in the 83rd minute as Bangladesh beat Cambodia 1-0 in a FIFA Friendly in Phnom Penh yesterday.
The Arambagh skipper, who came on as a substitute in the 65th minute, stabbed home from close range after another second-half substitute, Mahbubur Rahman Sufil, cut the ball back after speeding into the box from the left.
The lone goal gave Bangladesh a much-needed victory at the Phnom Penh National Olympic Stadium as the men in red and green maintained their unbeaten record against the Southeast Asian Nation. Bangladesh had previously won two of their three matches against Cambodia, currently sitting 20 places above Bangladesh (192) in the FIFA rankings. The other encounter between the teams had ended in a draw.
The Bangladesh team, coming to Cambodia with barely any preparation, did not look ragged at all as they pressed right from the word go, but the final effort from the two strikers -- Nabib Newaz Jibon and Matin Mia -- either missed the target or were blocked by the Cambodian defence.
Except for one or two fumbles at the back, the visitors had little to worry about in terms of conceding, but they, too, failed to completely open up the Cambodian defence. Bishwanath Ghosh's long throw-ins posed some danger, but the young Cambodian players kept the hosts at bay before Bangladesh coach Jamie Day's consecutive substitutions paid dividends.
Matin made way for Mohammad Ibrahim, Rabiul replaced Biplo Ahmed and Sufil came in for Jibon, and the last two substitutes combined with great impact to break the deadlock. The pace of Sufil proved too much for the tiring Cambodian legs, and his excellent cut-back was expertly turned in by Rabiul, sending scores of Bangladesh fans amid the strong Cambodian crowd into raptures.
There were a few nervy moments at the end for Day's charges as they failed to clear the danger for successive passes, but as soon as Kan Pisal's looping effort went over the bar, the referee blew the final whistle to the relief of the Bangladesh team.
Although the Cambodians fielded a very young side with the upcoming AFC U-23 Championship Qualifiers in sight -- the average age of the starting eleven of the home team just 20 -- the win will come as a big boost for Bangladesh, who were playing their first competitive match since October 2018. More importantly, it will definitely add some valuable points to their FIFA rankings.
Goalscorer Rabiul was ecstatic after getting his first international goal for the country. "This is my first international goal and it came in an away match. I am grateful to Allah for giving me the opportunity to represent the national team at this age and for getting the goal," said the 19-year-old.