Police upend Sheikh Jamal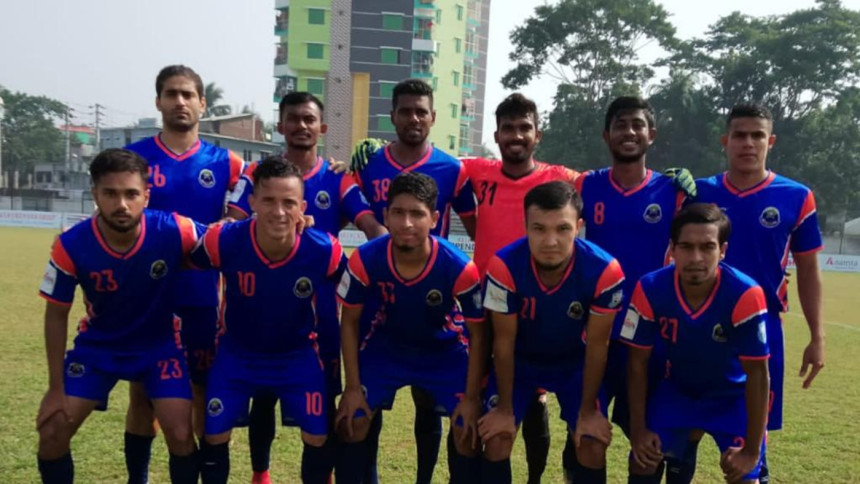 Bangladesh Police FC emerged Group D champions in the Independence Cup with a surprise 4-3 win over Sheikh Jamal in their last group match at Sheikh Fazlul Haque Moni Stadium in Gopalganj today.
Police FC, with seven points from three matches, will play against Group C runners-up Muktijoddha Sangsad while group D runners-up Sheikh Jamal DC will face Group C champions Abahani in quarterfinals.
Police took a ninth-minute lead through Syed Shah Quazem Kirmanee before MS Bablu doubled the lead in the 22nd minute with a header. Almazek Malikov of Uzbekistan made it 3-0 from the spot in the 37th minute after Edward Enrique was fouled by Yeamin Ahmed Munna from behind inside the box.
Sheikh Jamal hit back to score within six minutes, with Cornelius Stewart volleying home in the 38th minute before finding the back of the net with a header in the 43rd minute.
Police scored again in the 57th minute, thanks to a poor goalkeeping effort by Mohammad Neyeem, who missed the fight of a long-ball with Hernandez Avila scoring from close range.
Police FC defender Rasel Hossain scored an own goal while attempting to clear a low shot from Stewart but they could not avoid defeat. However, the Dhanmondi giants advanced to the quarterfinals, courtesy of better goal difference against Rahmatganj MFS, who also finished with four points after beating BFF Elite Academy 3-1 in their last match