'My legs were shaking' at Madrid fans singing 'Hey Jude': Bellingham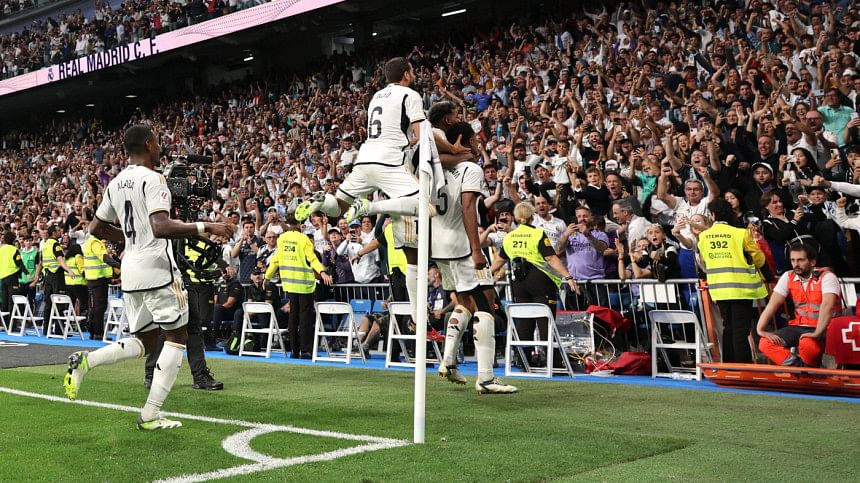 Jude Bellingham said his legs were left "shaking" as Real Madrid fans serenaded him with The Beatles song 'Hey Jude' on Saturday.
The England international hit a 95th-minute winner for Madrid against Getafe in a derby at the Santiago Bernabeu, securing a 2-1 win with his fifth La Liga goal in four games.
"It's the loudest moment I've heard in a stadium, happily it was for my goal," Bellingham told Real Madrid TV.
"When they were singing 'Hey Jude' at the end, I got goosebumps.
"I just wanted to stand still and listen to them. My legs were shaking.
"I know I was brought in for these kind of moments, they're the kind of moments I know I can deliver for this team."
Madrid spent over 100 million euros ($108 million) in the summer to sign Bellingham from Borussia Dortmund, and he has scored in all four matches they have played in La Liga so far this season.
"He's out of the ordinary," said Madrid midfielder Brahim Diaz after the game.
Madrid coach Carlo Ancelotti praised Bellingham for his strong start to life in the Spanish capital.
"His quality isn't surprising anybody, but the number of goals he's got is surprising," said Ancelotti, who deploys Bellingham behind the forwards in a No. 10 role.
"He's very professional, and he has a lot of examples for professionalism in this squad. He is learning very quickly."
Bellingham joins a small group of players to have netted in each of their first four Liga matches, including Madrid's all-time record goalscorer Cristiano Ronaldo.
The midfielder has scored five of Madrid's eight La Liga goals this season, helping to fill the void left by Ballon d'Or holder Karim Benzema's departure.