MSC staring at early exit
Chittagong Abahani advance to last 8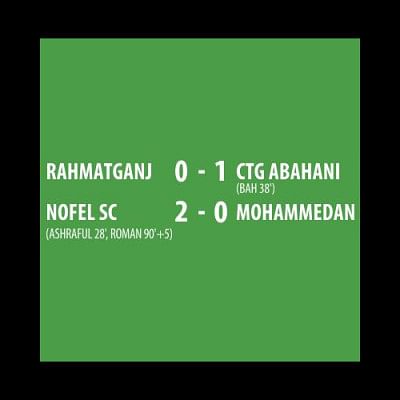 Chittagong Abahani booked a quarterfinal berth in the Independence Cup with a single-goal win over Rahmatganj while Mohammedan found themselves on the verge of elimination following a 2-0 defeat to newcomers NoFel SC at the Bangabandhu National Stadium yesterday.
Chittagong Abahani, runners-up in the previous edition, are now on top of Group B with a maximum six points from two outings followed by NoFel in second, who have three points from two games.
Rahmatganj and Mohammedan are facing early exits with one point each from two matches but both the Old Dhaka outfit and the Black and Whites have a slim chance of progression. However, they will need outright wins and other results to go their way if they are to advance to the last eight. Mohammedan take on Chittagong Abahani while Rahmatganj meet NoFel in their final group games.
Going down at the hands of the lightweights was a source of frustration for Mohammedan fans and a couple hundred of the dejected audience could not restrain themselves from hurling abuse towards players and officials at the final whistle.
There was also visible frustration among the players in the dugout after the final whistle perhaps owing to the mistakes that led to both goals. Two players were involved in a heated exchange that almost turned into a scuffle before an official intervened and calmed things down.
Once the country's powerhouse, Mohammedan find themselves faced with the prospect of elimination from the group stage for the second successive tournament this season.
However, there have surprisingly been no discussions about their poor performances on the field, where they had yesterday hardly created any scoring opportunities barring an innocent shot from Pashban Mollah which rattled the crossbar after NoFel goalkeeper Appel Mahmud misjudged the flight of the ball.
Packed with out-of-form veterans, Mohammedan went down in the 28th minute after Ashraful Islam struck before Mohammad Roman wrapped up the victory for NoFel by tapping into an open net in stoppage time of the second half.
In the day's earlier match, Chittagong Abahani's Gambian forward Momodou Bah struck the decisive goal through a 39th-minute header.