Messi says he wants to 'enjoy every moment' of career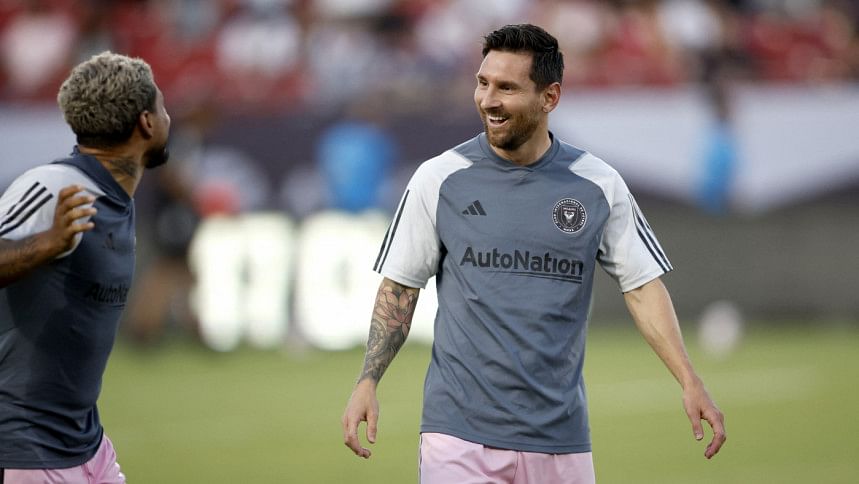 Lionel Messi says he wants to "enjoy every moment" of the remainder of his career and has no date in mind for when he will finally hang up his boots.
The Argentine World Cup winner won his first trophy with his new club Inter Miami with a penalty shoot-out win over Nashville, scoring his 10th goal in seven games since moving to the Florida club in the Leagues Cup final.
The 36-year-old signed a two and a half year contract with Miami last month but he said he hadn't even begun to think about his future beyond that deal.
"I'm not thinking about it (retirement) yet, to be honest. I like to play, I enjoy being with a ball on the field, competing, training," said the seven-times Ballon d'Or winner in an interview with Apple TV+.
"I don't know how much more I'll play, but I'll try to take advantage until I can, until I'm well and then I'll see. For later there is time to think, to analyze and choose," he said in the interview, recorded before Saturday's triumph for his new Major League Soccer club.
"Today the most important thing is to enjoy what's left, whatever it is, it can be little or a lot," he said.
"Enjoy every moment, especially because this is not coming back and then I don't want to regret anything," he added.
Messi said that his experience so far with Inter Miami left him convinced he had made the right move when his contract with Paris Saint-Germain ended and he repeated his disappointment at his time in the French capital.
Signing for Inter, he said, "was a family decision, (to) try to look for the good of the family. We had spent two complicated years, the truth is that we had not been doing well, we had struggled," he said.
"It was a bit like going back to what we were when we were in Barcelona, enjoying the day to day, the kids, the family being well. I enjoyed the day-to-day in sports, which was not happening to me," he explained.
"My trips to the national team were my happiest moments because I enjoyed the place where I was, my teammates and I wanted to come here and find the same thing," he said.
"Today, after some time has passed, I can say that we were not wrong and we were right when we said this was the right place," he added.