Messi remains injury doubt for US Open Cup final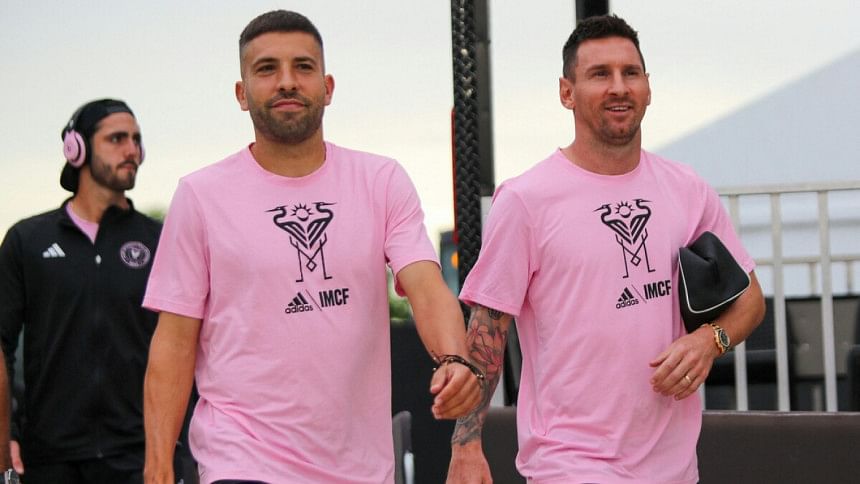 Lionel Messi remains an injury doubt for Inter Miami's US Open Cup final against Houston Dynamo on Wednesday with a decision on his involvement to be made at the "last minute," coach Gerardo Martino told reporters on Tuesday.
Messi's former Barcelona teammate, Spaniard Jordi Alba, is almost certain to be ruled out of the game for Miami but Martino said there remains a chance the Argentine World Cup winner could take some part.
"We will wait until tomorrow (Wednesday) -- Jordi I don't think so, it is difficult -- but Leo we will wait until tomorrow, we will wait last minute to make a decision," Martino said.
The final represents a chance for Miami to win a second trophy since Messi joined the club, adding to the club's victory in the Leagues Cup last month.
Martino said that they would not even be considering Messi for the game if a trophy were not at stake.
"It has exclusively to do with the final," he said. "If it were one of 34 (regular-season Major League Soccer) games, we wouldn't take a risk.
"It's logical to wait. If it were any other type of match, I don't think we would be taking that kind of risk."
Messi did not participate in the open portion of Inter Miami's training session ahead of the US Open Cup final against Houston.
The seven-time Ballon d'Or winner is struggling with what was initially called muscle fatigue but now appears to be some sort of injury, with Martino previously referring to old "scars" that are troubling the player.
"I will sit down with him, see how he feels," said Martino.
"We always talk, we will get together and find the best way. We have to consider three things -- the player, the final and what comes after. We have to assess all three things."
Messi missed Miami's 1-1 draw at Orlando City on Sunday with Martino saying he had a "day to day" status.
Inter's training session was open to the media for the first 15 minutes and neither Messi nor Alba were involved in the session, although Martin quipped that they took part after the media left.
Messi has been struggling since he was substituted in the 88th minute of Argentina's World Cup qualifier against Ecuador on September 7.
He sat out the world champions' second qualifier, at Bolivia five days later, before returning to his club after the international break.
Messi then missed Miami's 5-2 defeat at Atlanta on September 16 with Martino saying that he was suffering from muscle fatigue.
He then started the home game against Toronto but had to be substituted in the 38th minute, just minutes after Alba had been withdrawn.
After the final, Miami will have five games remaining in the MLS regular season, seeking a late push into the playoff positions.
On Saturday, Miami will host New York City FC, who currently hold the last Eastern Conference playoff qualification spot, ninth place, five points ahead of Martino's team.
The US Open Cup, a knockout tournament for amateur and professional teams, has been contested since 1914, making it by far the oldest soccer competition in the country.