Meet Robbie Fowler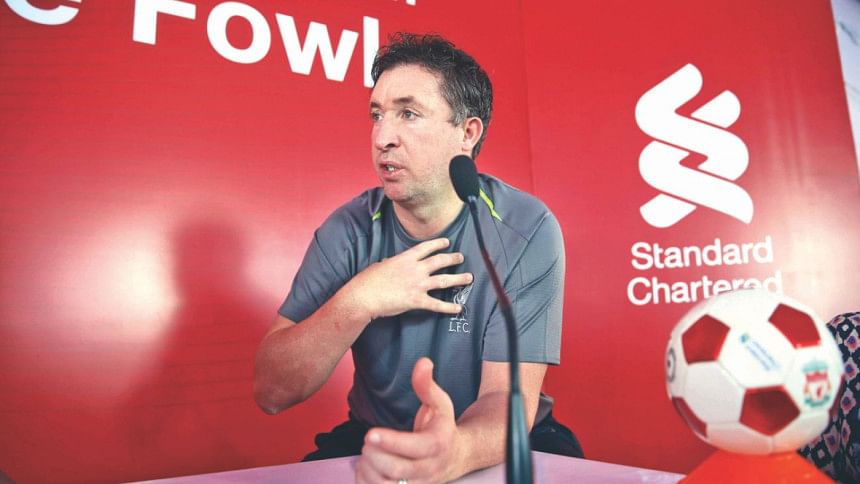 Robbie Fowler is considered a god by many at Anfield. Having graduated from the Liverpool academy as a local boy, Fowler burst into top-tier football and instantly endeared himself to the club's faithful with a flurry of goals. The second-highest scorer for Liverpool in the Premier League era and the sixth-highest overall, he hung up his boots in 2012 and has become a club ambassador. He is currently in Dhaka as part of a promotional campaign of the club's commercial partners Standard Chartered Bank. During an interview with The Daily Star's Atique Anam, Fowler reflected on his football career, his greatest memories, his football philosophy, his thoughts on the current Liverpool team and much more. Here are excerpts of that interview: 
The Daily Star (TDS): This is your first time in Bangladesh. How excited are you and what are you looking forward to?
Robbie Fowler (RF): I literally got in last night, but what I've noticed so far is the hospitality. People are tremendously friendly here. I'm here as a part of a Standard Chartered promotional trip and it's always nice when you go to a new country, new city. So I'm looking forward to it.
TDS: So what's keeping Robbie Fowler occupied these days? We see you as a football pundit for various TV channels. What else are you involved with?
RF: I still do a lot of work for the club. I travel around the world to represent Liverpool, which for me is very good as an ex-player.
TDS: Many of your contemporaries including [Steven] Gerrard, [Ryan] Giggs and [Paul] Scholes are into big-time coaching. When can we expect to see you in the dugout of a top-flight club?
RF: Hopefully pretty soon. As a player, I've had a decent career, but when you're finished playing you need something different to do. I've done all the coaching badges, pro licenses. So my next step is to go into coaching a football club and take it from there. I feel I have a lot to give.
TDS: Let's talk about your professional career which started as a graduate from the Liverpool academy and then making a senior appearance for the club, making an instant impact in the Premier League. If you have to pick out one of those early days and moments, which would be your most memorable one?
RF: There are so many. For me to represent Liverpool as a local lad was brilliant. I was fortunate to have a decent career, but I worked hard for my career. I wanted to be the very best that I could be. It was what I always wanted to be, growing up as a footballer. However, the best thing to ever happen to me was signing again for Liverpool.
TDS: How was the reaction from the crowd when you stepped up to take to the pitch for the first time in your second stint for Liverpool?
RF: The reaction from the crowd was unbelievable. The atmosphere at Anfield is always brilliant. The crowd was always very good to me, and when I re-signed, that noise and atmosphere when I made my debut again was the best thing ever.
TDS: You've scored some wonderful goals for Liverpool and other clubs. Is there any goal in particular that you still cherish?
RF: As a goalscorer, I think every goal for me was the same. It's obviously nice to score against big teams like Manchester United, Arsenal, Chelsea and Everton. I've had my fair share of goals against most teams.
TDS: How satisfying was it to win the treble with the club in 2000-2001?
RF: Brilliant; when you play football the ambition is to win as many games and trophies as possible. That season was extra special because of the trophies we won.
TDS: Despite playing for the club in 2006-07, you were excluded from the Champions League final squad against Milan and also missed out on the FA Cup success due to being Cup-tied. That must have been frustrating for you.
RF: Obviously the Champions League final is a big game and you want to be a part of big games, but I was happy being back in Liverpool. It is what it is in football. The managers have to make difficult choices. Disappointed that I didn't play, but more disappointed that the club didn't win the Champions League final.
TDS: During your 20 year professional career and beyond, how much do you think English football has evolved?
RF: Football has changed gradually with sports science. Players are looked after a little bit better, preparation for games are a little bit better. Football has got a little bit quicker, but I think technically there were better players back then; players with understanding of the game and authority to make their own decisions. Football now is geared more from a coaching point of view.
TDS: Working with which coach gave you the most satisfaction?
RF: My favourite manager is Roy Evans. He got the best out of players. I don't think technically or tactically he was as good as Rafa [Benitez], but he was my favourite.
TDS: The best player you played alongside?
RF: Ian Rush and John Barnes were brilliant. Among the modern day players you can't look any further than my big pal Steve McManaman, and then obviously Steven Gerrard. These four players, for me, embody Liverpool Football Club.
TDS: You once won a UEFA fairplay award for admitting that you were not fouled by Arsenal goalkeeper David Seaman when a penalty was given. Your thoughts on that incident?
RF: At that time, I didn't think it was a penalty and I said it wasn't. But if that happened in this day and age, I think it would be a penalty because that was me trying to get out of the way and falling over. So I was trying to evade the challenge.
TDS: People say you took a rather weak attempt from that penalty. Was it deliberate?
RF: It was a bad penalty because I missed it, but I did want to score. I never missed on purpose. Maybe subconsciously I wasn't in the right frame of mind.
TDS: You are regarded as a working class hero in Liverpool. How much do you keep your connection to your roots and to the people of your community?
RF: I still live in Liverpool; my family lived in Liverpool. People see me all the time. I'm a local lad and I do bits and pieces around the city through the club.
TDS: It's an irony that Liverpool haven't won a league title in almost three decades despite having some great players and coaches. Why is it still not coming home?
RF: Simply because there are other teams who have been better. Liverpool have been a great team for years but sometimes you have to put your hands up and say: there have been other teams who are slightly better. Liverpool have got a chance this year to win, but there are obviously other teams with a chance to win too. Man City, arguably, have the strongest side of the Premier League, so for Liverpool to be ahead of them at this point is brilliant. Liverpool are doing everything to win it, but so are Man City.
TDS: You are a big fan of Mohamed Salah. Do you think he can become a club legend if he spends a few more seasons at Anfield?
RF: Mo's a fantastic player. He scores goals for fun. I think the word legend is used far too much in football now, but if Mo continues the way he's scoring goals and if he brings trophies, he will be rightly considered a top-class legend of the club.
TDS: Looking back, do you have any regrets regarding your career?
RF: Not at all. There are maybe things I would change, but regret is a strong word. You learn from things and the best thing is to put things right into practice and pass it on to the next generation.
TDS: Despite being one of Liverpool's all-time greats, you didn't have enough impact playing for England. Would you say your career coincided with the emergence of better strikers in England or would you put it down to injuries that you suffered?
RF: Injuries play a part in football and I've had many injuries, but I don't think its injuries. Managers have ideas of certain players and certain formations. Sometimes you can't fit into, as much as you want to, into everyone's ideas and plans. So you just got to go with it.
TDS: But you only played 26 times for England. Don't you think you should have got more chances to prove yourself?
RF: I think so, I really do. As a football player, I scored nearly 100 goals before I got my first cap. Nowadays that is unheard of. It's unfortunate that I didn't have many more England caps, but it wasn't a be-all, end-all for me. I was happy playing football full-stop.