Mane incident with Sane 'dealt with', says Tuchel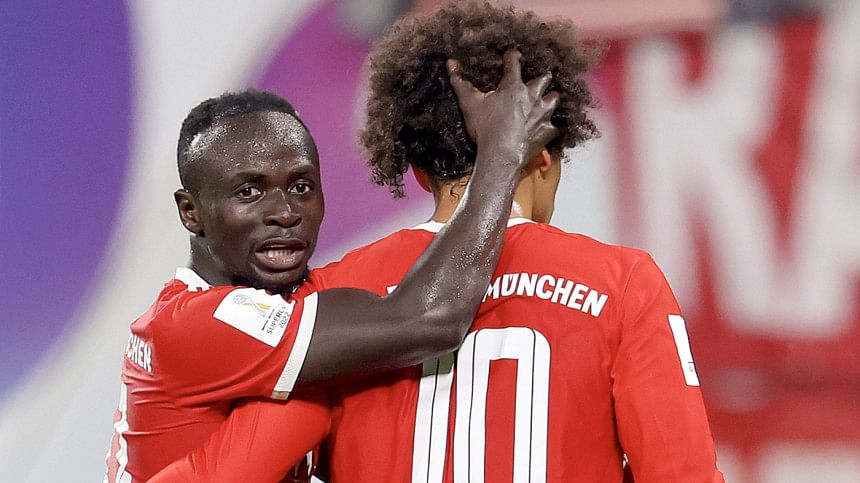 The incident between Sadio Mane and Leroy Sane has been "dealt with" after the Senegal star was fined and suspended by Bayern Munich, coach Thomas Tuchel said on Friday.
Mane was suspended for this weekend's Bundesliga game against Hoffenheim after reportedly having a physical altercation with Sane following Tuesday's Champions League defeat at Manchester City.
German daily Bild said Mane struck Sane in the face after the 3-0 loss, leaving the Germany international with a cut lip.
Mane has also reportedly been fined around 500,000 euros ($550,000).
"Of course it concerned us," Tuchel told a press conference. "A limit was crossed that we don't want and that we didn't tolerate.
"But we cleared the air. There was an apology which was absolutely credible... The matter is dealt with."
Mane has struggled for form since returning from a leg injury which forced him to miss last year's World Cup in Qatar and has not scored since October.
"I am his first lawyer and his first defender," said Tuchel, who only replaced the sacked Julian Nagelsmann last month.
"I have known him for so long, I know his entourage. I know him exclusively as a super professional, I have never, never, never, seen anything that we can blame him for...
"Everyone has the right to make a mistake."
Tuchel, who did not see the incident himself, said the 31-year-old apologised to the entire team and that the way it had been dealt with had a "cleansing effect".
Mane will be available for the quarter-final second leg against Manchester City at the Allianz Arena on Wednesday.
Bayern were also knocked out of the German Cup by Freiburg in the quarter-finals and only hold a two-point lead over Borussia Dortmund as they chase an 11th straight Bundesliga title.