Liverpool's clash against City still 'super important', says Klopp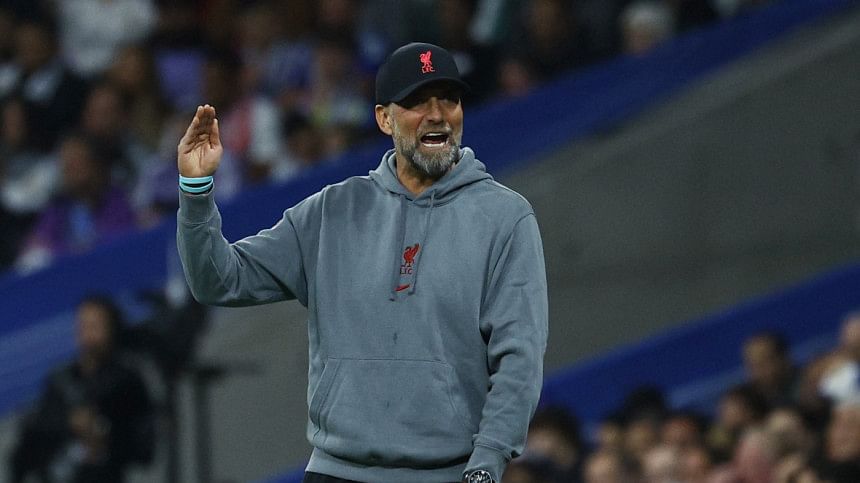 Liverpool may not be in the Premier League title race but their game against Manchester City on Saturday is still crucially important, manager Juergen Klopp said.
Liverpool and City have dominated the league for the past few years, but this season it appears to be a two-horse race between Arsenal and City, with Liverpool languishing in sixth - 19 points behind Pep Guardiola's second-placed side.
"It's a super important game. That's the one thing not different to all the other years," Klopp told reporters ahead of Saturday's game at the Etihad Stadium.
"Against City you have to be at the top of your game. You have to defend on a super-high level, but you have to play football as well."
Liverpool's hopes of securing a first away league victory over City since 2015 have been handed a boost by an injury to prolific striker Erling Haaland, who has scored an astonishing 42 goals in 37 matches for City this season.
However, Klopp said the Norwegian's absence will have little impact on Liverpool's preparations, adding: "When you prepare a game, you prepare all things to avoid the final pass - which is where Erling really comes into the game.
"He is a proper striker, but they became champions without a striker. That's how it is, you never know 100% who can play."
Liverpool face a tough stretch of games in the span of the next nine days, with trips to City and Chelsea before hosting leaders Arsenal.
"It's like a Champions League week. I'm super excited," Klopp said.
"... In the moment, it's just about winning football games for us. We know it's a massive game, a massive week coming up. But for tomorrow, Manchester City deserve all the attention - we can't think about the other games."
The German manager called on his side to focus their attention on their chase for a top-four finish, adding that their elimination from the Champions League, League Cup and FA Cup had put their recent success into perspective.
"Last year (we were competing for) nearly four trophies. This year we're out early," Klopp said.
"It brings us back down to ground, helps us understand that what we accomplished before wasn't easy. It's gone.
"Now it's clear, top four is the one thing we really can go for. We don't have a perfect position but it's possible. We have to win a lot of games."