Kings eye success on international territory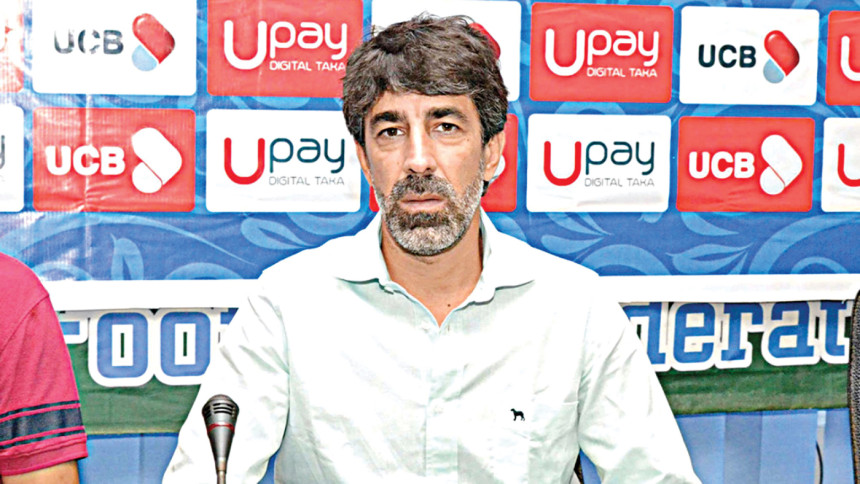 Having already established their dominance in the domestic circuit, Bangladesh Premier League champions Bashundhara Kings are now on course to make their presence felt in the upcoming AFC Cup, which is an annual continental club football competition organised by the Asian Football Confederation (AFC).
Although, during the last edition of the AFC Cup, Kings in their debut season had made quite an impression -- by thumping a 5-1 defeat to TC Sports of Maldives in Dhaka -- before the tournament was cancelled due to the outbreak of the novel coronavirus.
However, the back-to-back Bangladesh Premier League champions, placed in Group D, are now geared up to take another shot at the AFC Cup as their matches are scheduled to take place in Maldives from August 18 to 24. Kings were set to depart for Maldives during early hours at 3:30 am (local time) today.
Bashundhara Kings' Spanish coach Oscar Bruzon believes that the upcoming tournament is going to be a challenge for all the participating teams, as this edition of the AFC Cup features big names of the sub-continent clubs, the likes of Maziya SR&C, Eagles Club of Maldives, and ATK Mohun Bagan, JSW Bengaluru FC from India.
"Every team will find it challenging  as there is no clear favourite," Oscar told The Daily Star yesterday.
"Upon analyzing our rivals, we are anticipating tight games which would be decided on small details. For us, it'll be important to start with a victory and keep our qualifying chances alive till the last game against Mohun Bagan [August 24]," said the 44-year-old coach, whose charges will kick-off the campaign against Maziya on August 18 before facing the winner between Bengaluru and Eagles on August 21.
"Our opponents have a variety of game plans but they all regularly deliver good results. Maziya is a very sharp dynamic team, and especially good on transitions, whereas Mohun Bagan is cohesive as a unit and difficult to beat. And Eagles have signed the senior players of Maldives national team for this tournament while Bengaluru under their new coach are implementing a high-line pressing game to prevent opponents from building up [from the back] comfortably. We also have our own playing style. Every game will require different adjustments but we will be loyal to our objective of being the dominant side on the pitch."
The charges of Bruzon have been consistent throughout the season to win two titles this season, courtesy of the four quality foreign recruits they possess, along with some talented national players boosted by the addition of Nigerian-born Bangladeshi Eleta Kingsly who however, is waiting for the final green signal from the AFC. One major advantage for Kings is that they would play in their peak form in Maldives, after having been in action in the domestic league of late.