Kane 'loving the chemistry' at Bayern Munich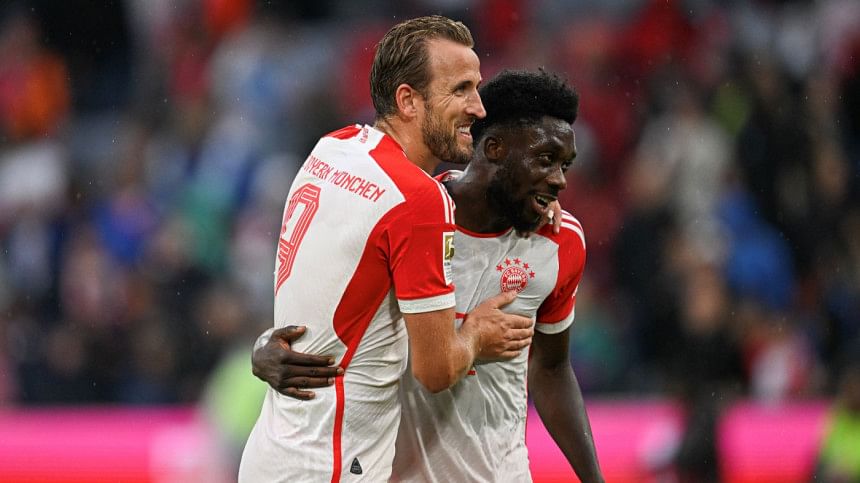 Just two weeks after his big money move to Bayern Munich, England captain Harry Kane said on Sunday he is "loving the chemistry" he shares with his new teammates.
Speaking after scoring twice on his home league debut in a 3-1 win over Bavarian derby rivals Augsburg, Kane said he was already building an on-field understanding with his colleagues.
"I've been here a few weeks now and I've been loving the chemistry that we've built," Kane told broadcaster DAZN.
"That will only grow more and more as we play."
Kane scored Bayern's second from the penalty spot late in the first half and brought up his brace with a deft chip midway through the second period.
Kane moved to Bayern from Tottenham, where he had spent his entire career without winning a trophy, in early August.
Bayern broke their transfer record to sign the England skipper, paying 100 million euros ($108 million).
On signing with the German champions, Kane said he came to Bayern to win silverware and to get better.
He now has three goals and two assists in two Bundesliga games.
"Every day we are learning in training, every match we learn more and more about each other," he added.
"We've got some fantastic quality in the side so naturally you feed off each other anyway."
Kane, who this week welcomed his fourth child, a son, said he was already settling in the Bavarian capital.
"It's been a crazy few weeks for sure. All positive, all amazing stuff.
"I'm really excited with it all (it's) an experience which will live with me forever."
"(My family) is back in London at the moment, they'll be over in a few weeks. It'll be great to be with them in Munich."
Teammate Leon Goretzka said Kane has already had a big impact on the Bayern dressing room.
"He's a world-class footballer and a wonderful guy. You notice his aura immediately in the dressing room," said Goretzka.
"He helps us extremely, he's a leader."
Kane even won praise from opposing coach Enrico Maassen who told DAZN "you can see he doesn't need much (to score)."
"He runs clever lines and he's world-class."
Bayern have now won their opening two matches in the league and sit behind leaders Union Berlin who also have six points.
The German champions next face bogey side Borussia Moenchengladbach away on Saturday evening.