Journalists condemn Salahuddin's remarks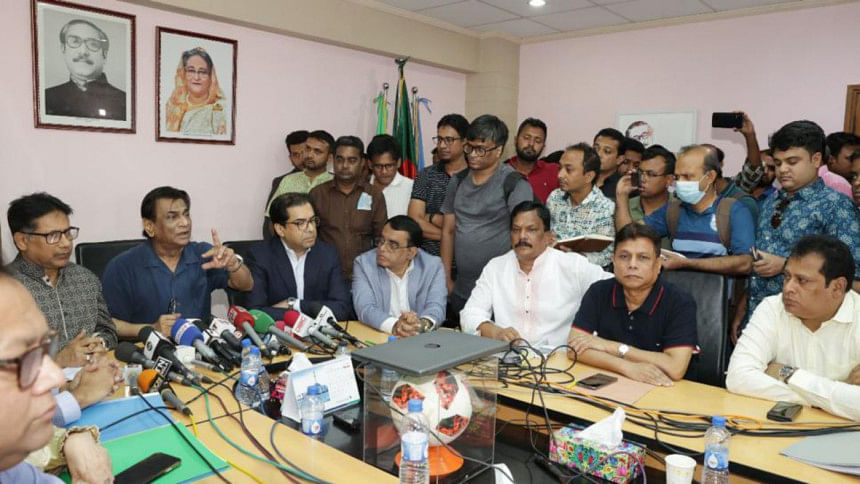 Journalists condemned Bangladesh Football Federation (BFF) president Kazi Salahuddin for his untoward remarks about journalists and their families on Tuesday.
The Bangladesh Federal Union of Journalists (BFUJ) issued a press release, stating Salahuddin had lost credibility as BFF president. In its press release, the Dhaka Reporters Unity (DRU) urged Salahuddin's resignation.
The Bangladesh Sports Press Association (BSPA) suspended Salahuddin's honorary membership through a press release on Wednesday.
The BFF president was caught in a hot mic situation on Tuesday, having a dig at the journalists that had gone to cover a press conference following an executive committee meeting.
Microphones in front of him caught what he was saying to BFF vice-president Kazi Nabil Ahmed, sitting by his side.
"When journalists enter here, they have to give photos of their parents," he said.
"Another condition is that they have to send a photo of their father wearing shoes. Okay? It should be mandatory. There should be pictures of the journalist's father wearing shoes."
However, the legendary footballer claimed he was speaking about the requirements to enter another institution, not the BFF, when speaking to The Daily Star.
"I was talking with Nabil about the strict eligibility for getting membership at the Dhaka Club, where photos of parents are mandatory. It was about Dhaka Club membership, not regarding journalists," Salahuddin claimed.
"I did notice the tape recorders in front of me. I'm not that foolish. The way the talks are being represented in media are not like that. I'm sorry about it and if anyone is hurt, I apologise," he further said.
The BFF president has made headlines for all the wrong reasons recently, especially in the wake of FIFA's sanctions against former BFF general secretary Abu Nayeem Shohag for financial irregularities.