Inter sign free agent Cuadrado to fan fury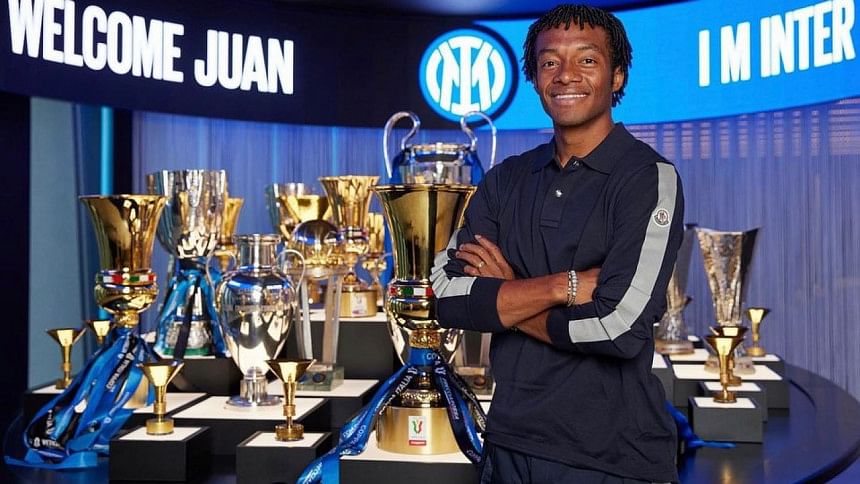 Juan Cuadrado has signed for Inter Milan, the Serie A club announced on Wednesday as fans protested the arrival of the Colombia winger after being released by bitter rivals Juventus.
In a statement Inter said that the 35-year-old had signed a one-year deal with the San Siro club after eight years at Juve, where he won five league titles and reached the Champions League final in 2017.
"It's an honour to be here at one of the biggest teams in Europe," Cuadrado told Inter TV.
"I had many offers, but Italy is a second home for me. My family is very attached to this country, and there was the opportunity to stay here and play for a big team with a fantastic history.
"I chose Inter because we all know what they represent on a global level.
"The important thing is for my family and I to feel good. We had the opportunity to remain in a place that, for us, is home. It'll definitely be the best choice."
Cuadrado has also played for Italian clubs Udinese, Lecce and Fiorentina. He made his move to Juventus permanent in 2017 after initially joining on loan from Chelsea.
Cuadrado, who has played 115 times for his country, will slot in as a deputy to Netherlands international Denzel Dumfries at right wing-back in Simone Inzaghi's side.
Inter welcomed Cuadrado's "experience and plenty of desire to win and enjoy himself" despite a "childhood marked by difficulties".
"Technique, versatility and reliability: Juan is ready for a new, Nerazzurri, adventure."
Blazing row
However Cuadrado's arrival has infuriated Inter supporters who detest him both as a symbol of Juve's most recent successes and for a series of incidences during matches between the two clubs.
The most recent was a blazing row with Samir Handanovic at the end of a 1-1 draw in last season's Italian Cup semi-finals which was also blighted by Juventus fans racially abusing Romelu Lukaku.
Juve's goalscorer on the night, Cuadrado was given a three-match ban for grabbing Handanovic by the neck and punching him.
He is also seen by fans as a chronic diver, faking fouls and exaggerating contact like when in 2021 he won and then scored a penalty against Inter by kicking out at Ivan Perisic before flopping to the turf.
Cuadrado exited Milan's Linate airport on Tuesday night with his head bowed and refusing to speak to waiting reporters, and after completing tests at Italy's Olympic Committee (CONI) one fan launched a volley of foul-mouthed abuse at him.
A banner was hung outside the CONI building which read "you did everything you could to make yourself hated, if you want that to change it's down to you".
Inter supporters were already exasperated by reports that Lukaku had decided he wanted to go to Juve as last season's Champions League finalists struggled to come to a sale agreement with Chelsea.
Lukaku was on loan at Inter last term after flopping in his second spell at Chelsea following a £97.5 million ($126 million) transfer to the Premier League club two years ago.
He had made himself a fan favourite over two years at Inter after scoring 64 times in 95 games and driving them to their first Serie A title in over a decade, the 2021 Scudetto ending both an 11-year drought and Juventus' grip on Italian football.