Infantino announces big increase in Women's World Cup prize money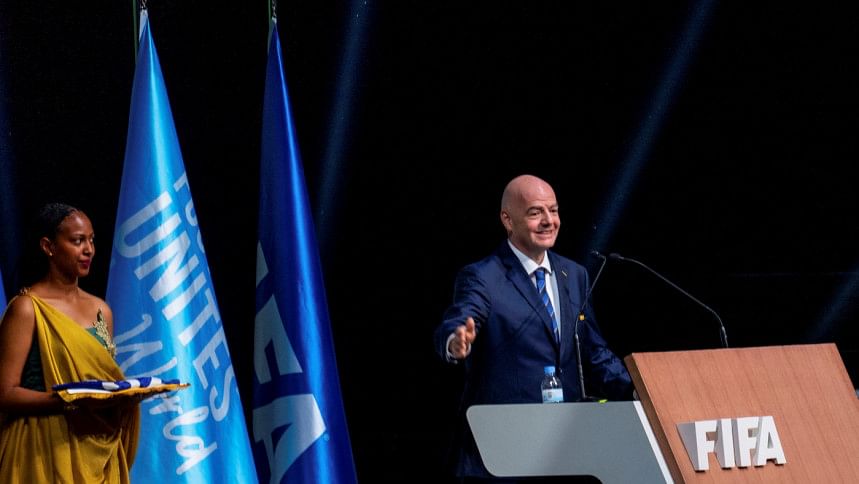 Prize money at the upcoming Women's World Cup in Australia and New Zealand will be triple that at the last edition in 2019, FIFA president Gianni Infantino announced on Thursday, as he also revealed Saudi Arabia's tourist board will not sponsor the tournament.
Speaking at the FIFA Congress in Kigali after being re-elected for a third term as president, Infantino said the total pot, covering prize money as well as compensation for preparations and for clubs, would be $152 million.
That is up from $50 million in 2019 and just $15 million at the previous tournament in Canada four years earlier.
The Women's World Cup in July and August will be the first to feature 32 teams, up from the 24 teams who went to the 2019 edition which was held in France and won by the United States.
The figure still pales in comparison to the $440 million prize money at the 32-team 2022 men's World Cup.
Infantino said some broadcasters had offered 100 times less to cover the women's competition despite viewing figures being "very similar, maybe 20 percent less".
"FIFA is stepping up not just with words but with actions. Unfortunately, this is not the case of everyone across the industry. Broadcasters and sponsors have to do more in this respect," he said.
"If the broadcasters offer us 100 million for the men's World Cup, they offer us one million or less for the women's, and at the same time these same public broadcasters... criticise FIFA for not guaranteeing equal pay to men and women.
"Offer us 20 percent less, or 50 percent less, but not 100 percent less. Women deserve much, much more than that and we are here to fight for them and with them, but we need to fight together."
The announcement of the increase in prize money was hailed by the global players' union FIFPro, which said in a statement that "the progress announced today demonstrates the intent of the players and FIFA to work proactively towards greater equity and equality for the industry."
No Saudi deal
Meanwhile, Infantino said a mooted sponsorship deal with the Saudi tourist board for the World Cup would not happen.
Reports of a possible deal led to criticism by officials from Football Australia and New Zealand Football, who had said they were "shocked" and "disappointed" not to have been consulted given the Gulf kingdom's poor record on women's rights.
"There were discussions but in the end the discussions did not lead to a contract," Infantino said, calling the outcry "a storm in a teacup".
"I understand that Australia has trade with Saudi Arabia of 1.5 billion (dollars) a year and that doesn't seem to be a problem," he added.
"There is a double standard that I really don't understand, but there is no issue, no contract."
Australia and New Zealand's football federations welcomed FIFA's announcement.
"Equality, diversity and inclusion are really deep commitments for Football Australia, and we'll continue to work hard with FIFA to ensure the Women's World Cup is shaped in this light," said Football Australia's CEO James Johnson in a statement.
"It is critical for all commercial partnerships to align with the vision and values of the tournaments they are involved in," New Zealand Football said.