Guardiola hails Manchester City's 'perfect' performance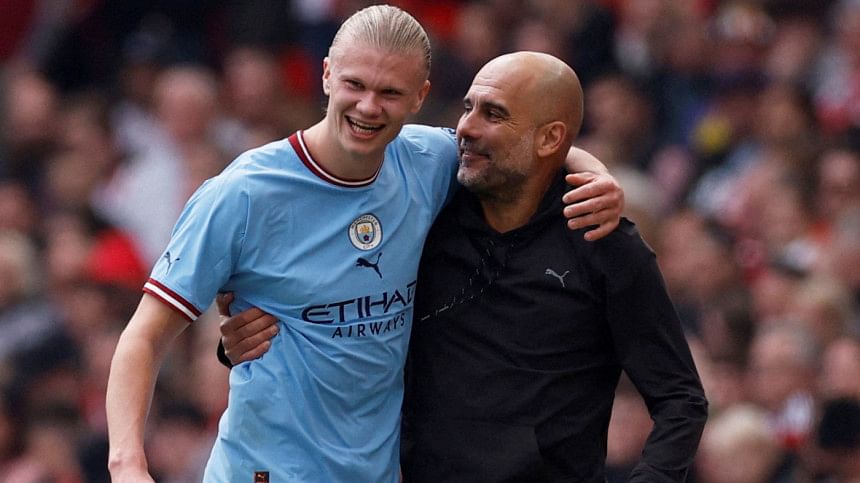 Manchester City manager Pep Guardiola said he was "happy and really satisfied" after his side eased past second-tier Sheffield United on Saturday to snap their losing streak in FA Cup semi-finals.
Guardiola made six changes from the team, which drew at Bayern Munich in the Champions League on Wednesday, with a Riyad Mahrez hat-trick securing City a 3-0 win and a spot in the final, where they will face either Manchester United or Brighton & Hove Albion.
"It's the fourth time in a row we are here, and the last three against Arsenal, Chelsea and Liverpool we could not do it," Guardiola told reporters after the win.
"Today we performed. This game is coming on the back of Bayern, and we talked about how we have to try again and perform well - and they did really well with all the guys, the ones that came from the bench... everyone was perfect.
"I'm happy and really satisfied for all the club to be after many years in the FA Cup final."
Guardiola highlighted the contribution of goalscorer Mahrez, who did not feature in either of City's Champions League quarter-final games against Bayern.
"Always he's grumpy with me when he doesn't play," Guardiola said.
"All the time, he makes me notice he's grumpy. Today, no. He's an exceptional player and his play was exceptional. A biggest-stage player who has the mentality to score goals."
City, who are second in the Premier League, five points behind leaders Arsenal but with two games in hand, have also reached the semi-finals of the Champions League.
If City win all three competitions, they will match local rivals United's treble-winning season in 1999.
Asked if United fans had reason to fear City matching their achievement, Guardiola joked: "They don't have to be scared, we are neighbours, neighbours are always nice to each other.
"I said yesterday we are far away from the treble and this discussion for a funny moment is OK."
City next host Arsenal in a top-of-the-table league clash on Wednesday, in which they can seize control of the title.