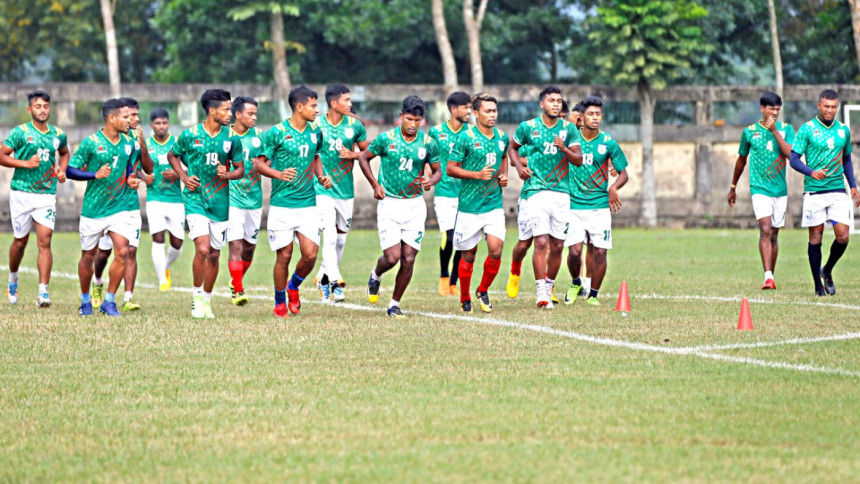 Football lovers across Bangladesh were engulfed by excitement when it was announced that a team from Brazil would take part in the 2nd Bangabandhu Gold Cup in 1999. However, spectators were shocked after watching the side's ridiculous performance in their opening match against the Thailand under-23 team.
After that, Brazil suffered a defeat to the South Korea U-20 team and were knocked out from the group stages.
The Bangabandhu Gold Cup faced a crisis to maintain its standards right from the inaugural edition in 1997. That crisis continued up till the fourth rendition of the competition, where all the participating teams aside from Bangladesh were U-23 sides as Nepal, Maldives and Sri Lanka sent Olympic squads in a bid to ready them for the 2016 South Asian Games while while Malaysia sent a club named Felda United.
However, the scenario is different this time as most nations, with the exception of the Philippines, sent their first teams in an effort to clinch the title of the 5th Bangabandhu Gold Cup, which is set to get underway today with Palestine, Philippines, Tajikistan, Nepal, Laos and hosts Bangladesh vying for  glory.
Palestine are the top ranked side at 100 in FIFA rankings and come into the tournament with 13 players who were a part of the squad that faced Qatar in a FIFA friendly on September 11 among the 30-member preliminary squad. Meanwhile, Tajikistan -- 120th in FIFA rankings -- also brought 13 first team players in their 30-member preliminary squad.
Laos brought 15 footballers who took on the UAE in an international friendly on September 11 while Nepal arrive having only made two changes to the team that played the SAFF Suzuki Cup last month.
The Philippines are the only team currently without any first team players but manager Josef Mari Malinay informed that nine senior team members, who were preparing in Qatar for a match against Oman, would join their 11-member squad today.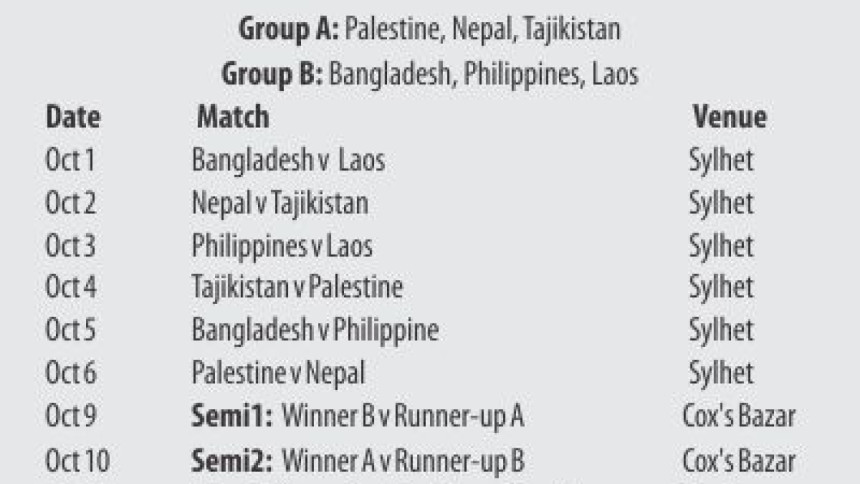 "Our first team has only two U-23 players. Our first target is to prepare other assignments," Palestine coach Noureddine Ali said. "Our second target is to win the tournament."
"Laos are a young team which has been preparing for the upcoming ASEAN Suzuki Cup. We played against Bangladesh before but they are under a new English coach, who has certainly studied us. The match against Bangladesh will be tough but we'll try to put up a good performance," explained Laos coach Mike Wong Mun Hen.
Meanwhile, Philippines' manager Malinay admitted that they brought their second team because he wants to see how the young players perform ahead of the ASEAN Suzuki Cup and Asian Cup. However, they are still optimistic about winning every match as the players are eager to show their talent.
Nepal and Tajikistan were unable to attend the briefing following their late arrivals in Sylhet.
With the participation of first teams, this edition of the Bangabandhu Gold Cup is expected to be a much more competitive affair than before.