Chiesa adds to Juventus injury concerns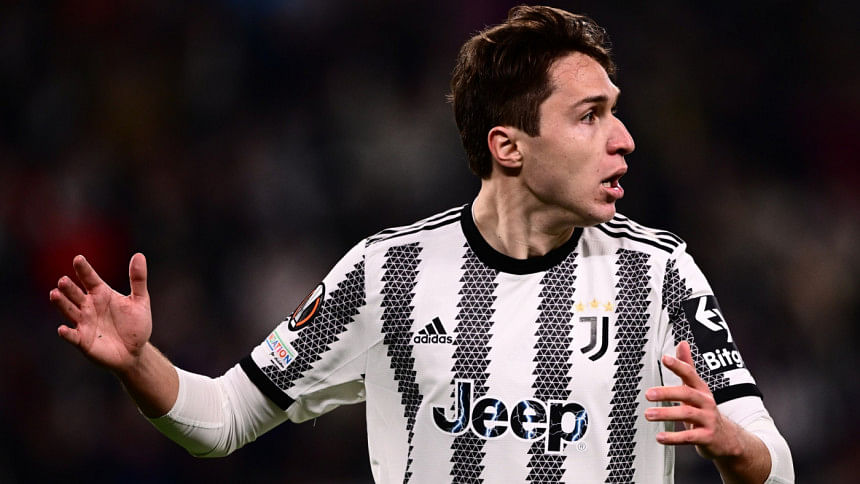 Juventus forward Federico Chiesa sustained a knee injury in the 1-0 home win over Germany's SC Freiburg in the Europa League on Thursday, coach Massimiliano Allegri said.
Chiesa was substituted in the second half, giving Allegri another concern before his team host Sampdoria in Serie A on Sunday.
Argentine Angel Di Maria scored the winning goal for Juve and played the whole match despite showing signs of discomfort.
"We'll see tomorrow (about Chiesa)," Allegri said. "At the moment, I can say nothing because I know nothing. Di Maria put in an intense performance for 90 minutes. I think he had a cramp.
"We have some players out, (Fabio) Miretti just came back today and could play a half. Leonardo Bonucci did well too, it's a pity that (Moise) Kean will be suspended on Sunday in a very, very difficult and very important game for us, as we need to get back to winning ways in Serie A," Allegri said.
Paul Pogba was not in the squad after turning up late for a meeting, but Allegri said the France midfielder would be available again from Friday.
"There are rules within a team like Juventus, and they need to be respected above all by the veterans. To go all the way in a competition, you need as well as technique and quality, more importantly, character and moral strength," Allegri said.