Chelsea is football's 'hardest job': Potter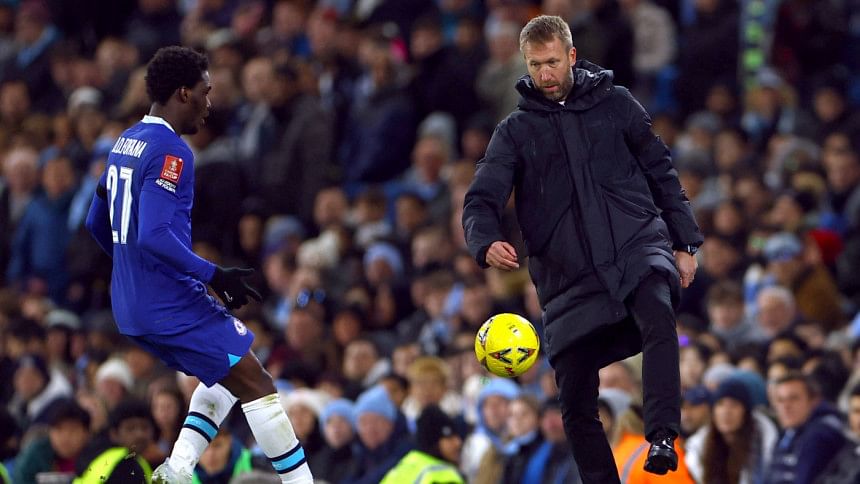 Graham Potter claims he has the hardest job in football as injury-ravaged Chelsea struggle to live up to expectations following Todd Boehly's takeover of the Premier League club.
Potter's side are languishing in 10th place in the top flight despite Boehly authorising a spending spree on new signings that has reached almost £350 million ($425 million) since the end of last season.
Hired to replace the sacked Thomas Tuchel in September, former Brighton boss Potter is beginning to hear calls for his dismissal just four months later.
Blues fans added to the pressure on Potter during Sunday's woeful 4-0 FA Cup third round defeat at Manchester City when they sang the names of Tuchel and former owner Roman Abramovich.
Add an ever-growing injury list that has denied Potter the services of stars including N'Golo Kante, Ben Chilwell and Reece James and it is perhaps not surprising the Chelsea manager ranks his job as the toughest in the sport.
"I have the utmost respect for the previous ownership and what they achieved and what they did. It's fantastic," Potter told reporters ahead of Thursday's west London derby at Fulham.
"But, unfortunately, they're not here anymore. It's a new ownership, everything's changed pretty quickly.
"Lots of things went and you have to try to build it up again. But, in the meantime, you've still got Chelsea, you've still got the demands and the expectations.
"I think this is probably the hardest job in football. Because of the leadership change and because of the expectations and, rightly, where people see Chelsea."
- 'Change is challenging' -
Potter was boosted by the signing of Portugal forward Joao Felix on loan from Atletico Madrid for the rest of the season.
But the 47-year-old understands the need for immediate results to stave off further sack talk, so he held a meeting with senior players Cesar Azpilicueta, Thiago Silva, Jorginho and Mateo Kovacic on Tuesday in an attempt to calm the crisis.
"They were honest, articulated their concerns well, their positivity, their responsibility. I think we are in a place where we can move forward," Potter said.
"The reality of where the club is in terms of establishing itself as a well-run football club, functioning well in a really competitive environment, maybe we're not quite there yet.
"In my head, that's quite easy for me to understand and get. But I know there's a lot of people that don't see it that way."
Insisting he retains the support of Boehly and co-owner Behdad Eghbali, Potter added: "I've been in regular dialogue with the owners and they've been really supportive, fantastic.
"Change is challenging in any organisation. But I didn't think we'd lose 10 first-team players. That's just where we're at.
"This is a new era, a new chapter. We're going through some pain, it's difficult at the moment."