Can Sazzad live up to Cabrera's expectations?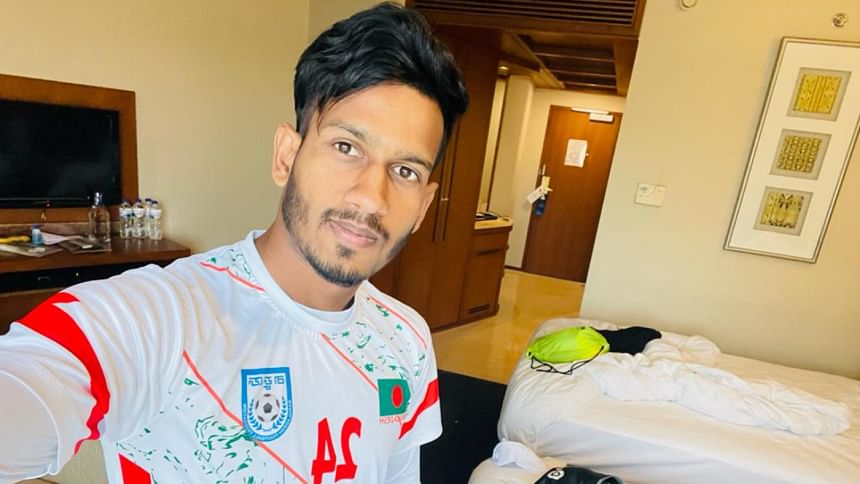 Before the departure of the national football team for Jakarta on Friday for their FIFA friendly against Indonesia and the ensuing Asian Cup Qualifiers in Malaysia, the national team's head coach Javier Cabrera remained optimistic about their chances despite the absence of experienced forwards in his squad.
Cabrera especially was confident regarding Sazzad Hossain, who got a place in the national squad for the first time after experienced forward Nabib Newaj Jibon was suspended from the camp on disciplinary grounds and other seasoned forwards like Matin Mia and Suman Reza were ruled out due to injuries.
Cabrera included four forwards -- Jafar Iqbal of Mohammedan SC, Sazzad Hossain and Faisal Ahmed Fahim of Saif SC and Mahbubur Rahman Sufil of Bashundhara Kings -- for the two upcoming campaigns but the Spanish coach apparently has his hopes pinned on Sazzad, who struck four goals in the professional football league and one goal each in Federation Cup and Independence Cup after coming from the bench.
"Sazzad is a proper number nine player. We also have others like Sufil, who can play in that position. We have players like Maraz Hossain Opi, who can play as the false nine or second forward. So we don't have any concerns when it comes to forwards," Cabrera told reporters before leaving for Indonesia.
Meanwhile, Sazzad also hoped to make his debut memorable with a goal.   
"As I have come into the national team for the first time, I will want to make it memorable by scoring a goal in my debut match," said Sazzad.
Sazzad, however, hinted that he would have been much more confident ahead of his debut game had he been regularly played as a number nine at the club level.
"Can you find a local forward playing in the number nine position at the club level? The local players are playing as right or left forwards or sometimes coming in place of the number nine as substitutes. If a local forward is given a chance to play in the number nine position regularly, he can grow his confidence. At the club level, the team management never preferred the local forward in the number nine position even if he struck a treble in the previous match. Because the club management prefers to play the fit foreign player in that position. Then how the local forward will get goals at the international level?" Sazzad queried.
Sazzad believed his domestic performance merited a call-up from the national team.
"I am very excited to get the call in the final squad, especially as I have been called in to replace [Nabib Newaj] Jibon bhai in the preliminary squad. I believe it was an expected call because of my performance in the domestic competitions," said Sazzad, who was only included in the 21-member squad due to Jibon's suspension. 
"I did not lose hope. I was rather feeling that I would get a call from the national team and finally the dream came true after I was given an opportunity in place of Jibon Bhai," said the 27-year-old striker.
"I faced a lot of criticism for playing football. My parents also asked me to do jobs instead of playing football but I refused to do so. I started working in an NGO in the morning with a salary of Tk 2000 per month and then trained in the afternoon. But I left the job after two months. 
"At that time, I also got a football contract worth Tk 10,000 for playing for a team from Patia Upazila of Chittagong. I also played in the Chittagong Premier Division and Second Division Leagues before playing for Kadamtala Sangsad in the Second Division Football League in Dhaka in 2015. Next year, I joined Saif SC in the Bangladesh Championship League and have since been with them," said Sazzad, who is determined to cement his place in the playing eleven."