Brothers win at last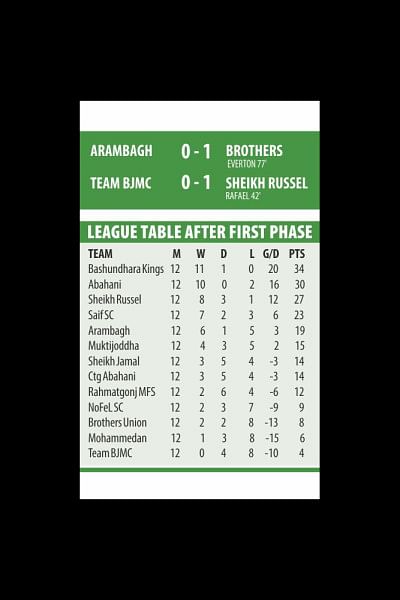 Strugglers Brothers Union registered their second victory in total and first in 10 matches with a 1-0 win over Arambagh KS away at the Rafique Uddin Bhuiyan Stadium in Mymensingh as the first phase of the Bangladesh Premier League was wrapped up yesterday.
The Gopibagh-based outfit, who had registered their previous win in the league's second match against fellow strugglers Mohammedan on January 30 this year, had endured a seven-match losing streak. However, their fortunes changed recently as they notched back-to-back draws in their two previous matches before finally getting their second victory yesterday.
The only goal of the game came in the 77th minute when Brothers' Brazilian playmaker Everton Souza picked the top left corner to the Arambagh net with a powerful shot from the edge of the box.
The win lifted the All Oranges to 11th position in the 13-team table with eight points from 12 matches while Arambagh finished the first phase in fifth position with 19 points.
Meanwhile, title-challengers Sheikh Russel consolidated third spot with a 1-0 win away to bottom-placed Team BJMC at the Shaheed Bulu Stadium in Noakhali in the other match of the day.
Rafael da Silva of Brazil scored the only goal of the game in the 42nd minute with a tap-in following a square-pass from Raphael Odoyin.
The win took the former champions to 27 points in third position while Team BJMC remained rooted to the bottom with only four points, thanks to four draws and eight defeats.
Newcomers Bashundhara Kings were at the top of the table with 34 points while defending champions Abahani were in second position with 30 points.
The league will go into a two-week break, with the midseason transfer window opening today and closing on May 2. The second phase of the league is expected to kick off on May 5.