'Both the games against Bangladesh have been extremely difficult'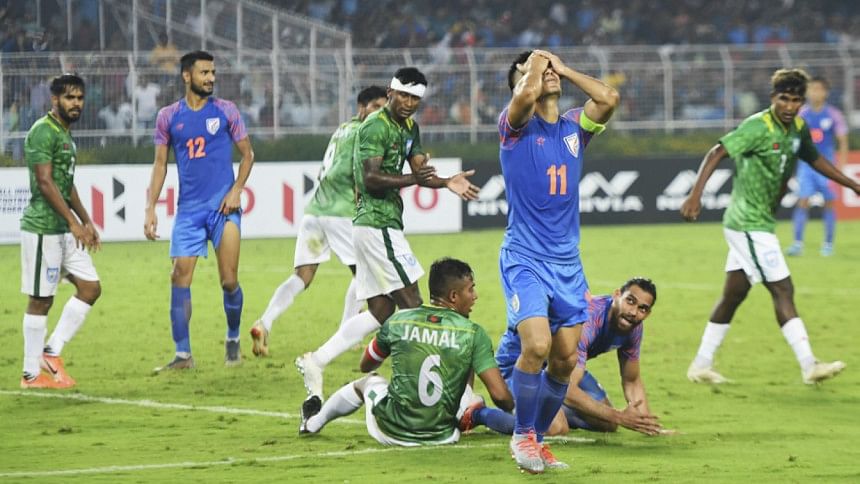 The football matches between Bangladesh and India always induce additional excitement among the players and the spectators on both sides and the tacticians of both teams do not lag behind in terms of excitement ahead of another SAFF Championship tie between Bangladesh and India today in Male, Maldives.
Both Bangladesh coach Oscar Bruzon and Indian coach Igor Stimac have already started to play the mental battle ahead of the crucial match with Igor terming Bangladesh's penalty against Sri Lanka as a funny goal while Bruzon, during a press conference, termed India a struggling side that is stuck and growing slowly after previous English coach Stephen Constantine lifted India 60 to 70 places up in FIFA ranking.
"It was (Stephen) Constantine who lifted India to 60 -70 ranking but right now India is struggling and they can't do well. They are stuck and slowly coming up in the ranking," Bruzon told the media after Igor made the comments on Bangladesh's penalty against Sri Lanka to the Indian media.
While the war of words persists, neither will risk fielding any inexperienced players in a crucial match.
Igor has already made it clear that he would bank on the known players of ATK Mohun Bagan and Bengaluru FC who recently played against Bangladeshi players of Bashundhara Kings in the AFC Cup last August at the same venue in Male.
"We will rely on Bengaluru FC and ATKMB players because not only they played here a few weeks back, but they started work with their respective clubs. And they had enough training sessions, and games in their legs. So their engines are good for such a tournament," Igor was quoted as saying by All Indian Football Federation website.
"I think it will probably be a different game compared to the last match because the coach is new one, who will be trying to play in different style, probably using more players from Bashundhara Kings, who know very well what the coach is expecting from them. So, they might make it difficult for us and we're gonna be careful of that. I rely more on concentrating on our game," said Igor.
Like Igor, Bruzon is also expecting to field more players from Bashundhara Kings who drew against Mohun Bagan and Bengaluru FC in the AFC Cup.
The Spaniard drafted six Bashundhara players in the starting eleven against Sri Lanka and later sent three more as substitutes and today seven Kings players are expected to start.
Indian captain Sunil Chhetri, who rescued the Indian side on many occasions, is also serious with the Bangladesh game as he does not want to lose any game of the tournament.
"When you are young you play for a lot of things. As you get older, a lot of them diminishes. I've played over 100 games for India, I don't have another 100 and I want to make the most of all the games I have left. I want to win a game if I am playing for my country. Both the games against Bangladesh have been extremely difficult ones. I don't want to lose any game for my country," said 37-year old Sunil, who has been representing India for last 16 years.