BFF pulls women's team out of Olympic Qualifiers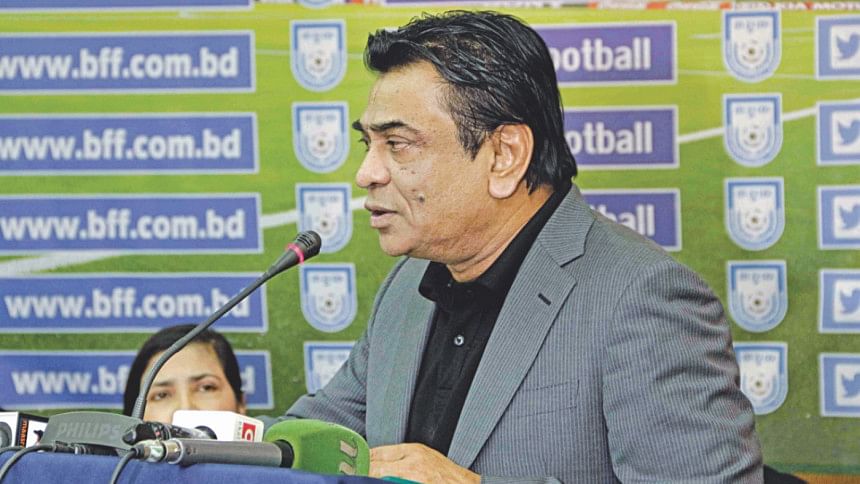 The Bangladesh Football Federation (BFF) announced that it would pull out of the 2024 AFC Women's Olympic Football Qualifying Tournament just six days before the start of the first round in Myanmar, citing financial constraints.
Bangladesh had been drawn in Group B alongside the hosts, Iran, and Maldives on January 12 and were preparing until the sudden reversal.
"As it is the Olympic Qualifiers, we have to bear expenses like airfare, accommodation and conveyance, which is not required for some other tournaments. How can I send the team to Myanmar? We did not get a positive response after seeking financial support from the Bangladesh Olympic Association and Youth and Sports Ministry," BFF president Kazi Salahuddin told The Daily Star on Wednesday.
Asked how the amount provided by Dhaka Bank as sponsorship for the women's team was being spent, the BFF president replied: "Whatever Dhaka Bank pays for the women's team is spent on players' wages and nutrition. No money is left for other purposes."
The federation president also claimed that he had to clear the wages of 20 players out of his own pocket after the players did not turn up for training for two days due to a failure to clear wages.
Interestingly, a couple of weeks ago the BFF sent the men's national team to Saudi Arabia to prepare ahead of March's FIFA-sanctioned friendlies, with Salahuddin informing that they had virtually no expenses in Saudi Arabia due to an agreement between the two federations.
"We did not have to consider any expenditure when we sent the national team to Saudi Arabia for training. They even bore half the cost of airfare. I think it would be more expensive if we had the camp in Dhaka," added the BFF boss, who has never before declined to send any team abroad since taking the helm in 2008.
Asked whether there was the possibility of seeing such incidents repeated in future, Salahuddin said: "We never had money. Previously, I managed money to send the teams abroad. Let's see what happens in the coming days."