'BFF board, not Salahuddin, rejected the award'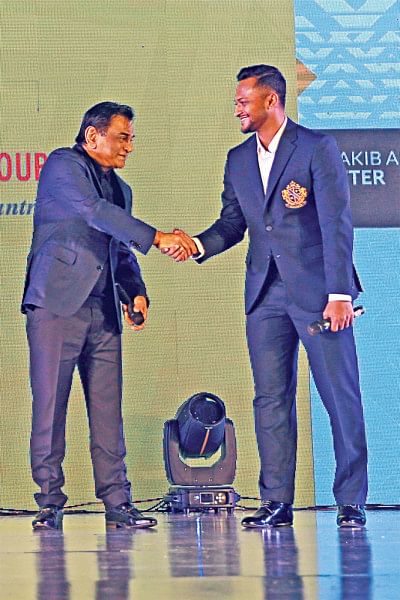 Bangladesh Football Federation (BFF) president Kazi Salahuddin claimed that the decision to reject the BSPA award conferred on him was not a personal one, instead made by the BFF executive committee, which he neither supported nor opposed.
Bangladesh Sports Press Association (BSPA), one of the sports journalists' associations of the country, awarded the legendary footballer as the second-best sports person of the country behind cricketer Shakib Al Hasan during its 60-year anniversary celebration on Friday night. The BSPA selected eight other sporting personalities for awards through a panel of judges.
But the BFF rejected the award and sent back the trophy and prize money to the BSPA after a board meeting on Saturday, later saying through a press release that it felt the second-best award was an insult to Salahuddin and to the country's football.
"I did not discuss it at all at the board meeting. It was not my subject," Salahuddin told The Daily Star when asked whether the BFF board had the authority to reject an award which was given to him for his contribution as a footballer.
"A few members of the board said that that since I was the incumbent president of BFF, they could directly interfere with it (the award). I asked them to refrain from such an act, but they said that they were not discussing about Kazi Salahuddin, rather they were discussing about the BFF president," Salahuddin said.
"At that time, I left the meeting, and the meeting took the decision and sent the letter, which didn't bear my signature. I told them to overlook the matter, but they didn't listen to me. It was a decision of the board," the BFF boss added.
Asked whether he supported the decision, the BFF president said, "They (BSPA) made the decision, but I didn't speak; I neither protested it nor supported it. I can't make any comment on the board's decision because I have to accept it whether I like it or not."
BSPA, meanwhile, condemned BFF's stance through a press release issued yesterday.
It said that since the award was given to Salahuddin for his contribution as a footballer, not as BFF president, the BFF board did not have the authority to reject it. It also mentioned that rejecting the award while terming it as a 'farcical award' also undermined the other awardees.