Bangladesh ready for today's 'final'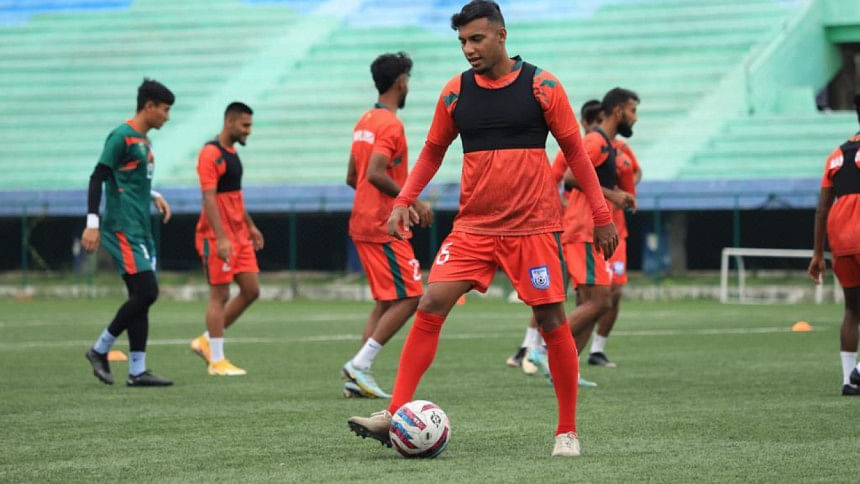 Bangladesh coach Javier Cabrera appeared to be taking a contemplative walk around the artificial turf at the Karnataka State Association Stadium in Bengaluru with his head bowed and his hands behind his back before starting the final preparations for today's SAFF Championship match against Maldives.
Before the start of the training, fitness coach Ivan Razlog tried to raise spirits ahead of today's crucial match, engaging the players in a game based on wearing their bibs quickly and correctly.
Cabrera then showed the players various things during the final training session designed to break down Maldives, who have proven to be a formidable opponent for Bangladesh in the South Asian football extravaganza. Maldives have remained unbeaten against Bangladesh for the past 20 years, ever since a loss in the 2003 edition in Dhaka.
Asked if Bangladesh were ready to deal with the challenge, Cabrera said: "We are ready. It is a very, very important match for us. Not getting any points against Lebanon was disappointing, but we have to depend on ourselves. We need to win; we want to win. The atmosphere is good. Everyone is positive and tomorrow we have a really tough fight. But we believe we will achieve our objective."
Cabrera was uninterested in looking back to the past, which he regarded as just a statistic. He believed Bangladesh would take to the field with the aim to win and keep their semifinals hopes alive.
"We are focusing on the present. We are in a positive moment and we are quite positive about the performance against Lebanon regardless of the result. That will give us the strength to face Maldives tomorrow," the Spaniard said, adding that Sunday's match was going to be a 50-50 affair as Bangladesh and Maldives won one game each in their last two meetings.
When Cabrera was reminded that Bangladesh had fallen apart in crunch situations in the past five SAFF Championship campaigns, he replied: "I think the pressure applies to both sides because I don't think Maldives will come looking for one point since that would be risky. Both teams will try to give their best and we are looking forward to getting three points."
Nevertheless, Maldives, who have more skillful players than Bangladesh, are expected to cause Bangladesh various problems. But Bangladesh have made plans to restrict their forwards.
"We had a team meeting today [Sunday]. The players know the formation and we always highlight the opposition's top players as well as study their weakness and strengths. We did the same before the match against Lebanon and we will have the same plan against Maldives. They have talented players up front, but we believe that we also have talented players in the forward line-up who can win matches," Cabrera said, adding that he had put an emphasis on set-pieces in the training session.
Defender Tapu Barman added: "Keeping a clean sheet will be vital and we will try our best to do that." He also reiterated the words that were heard from the Bangladesh camp previously, saying: "We will treat this match like a final."
After the completion of the final preparations, Cabrera called on team manager Amer Khan, team leader Shawakat Ali Khan Jahangir and team attendant Mohammad Mohsin to bring everyone together and form a circle in the middle of the field. Once the short briefing was finished, loud screams were heard from the players. They will be hoping to make some noise once again after the 'final'.