Asif fetches top price as BFF auctions academy players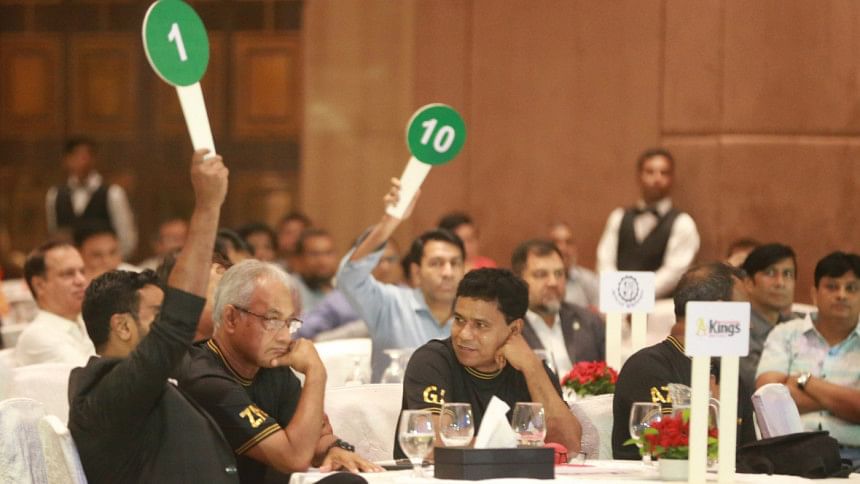 Brothers Union scooped up six of the 10 players as Bangladesh Football Federation held a first-of-its-kind auction for 10 of its Elite Academy footballers at a hotel in the capital yesterday.
The four other players were snatched by Bashundhara Kings, Abahani, Sheikh Russel KC and Fortis FC for the upcoming Bangladesh Premier League season, with representatives of all but one of the 11 participating clubs present at the occasion.
The auction took place after three different clubs – Sheikh Russel, Mohammedan SC and Brothers Union -- demanded these players to the game's local governing body, prompting BFF to organise the auction.
It was also a promotion for the BFF Elite Academy, which started with 33 budding footballers two years ago and now accommodates and trains 63 players in its dormitory in Kamalapur.
An audio-visual display highlighted the features of BFF Elite Academy and its impact on the country's football.
The players were auctioned in two categories – A with a base price of Tk 5 lakh and B with a base price of Tk 4 lakh. Mohammad Asif, the only goalkeeper in the list who had a base price of Tk 5 lakh, was sold for highest 13.75 lakh to BPL champions Bashundhara Kings.
While most of the clubs had already roped in players of their liking for the next season, the auction was a unique event in the history of the country's football and was attended by the high-ups of BFF and all the clubs and beamed live on a satellite channel.
While the auction was conducted quite professionally, it took a heated turn when Mohammedan officials staged protests over the decision to allow Rubel Sheikh to be bought by Brothers, claiming Mohammedan had bid a higher price just before the hammer went down. After a brief period of chaos and stoppage, the bidding restarted and the issue of Rubel was settled through a rebid, with Brothers buying him eventually for a high price.
BFF president Kazi Salahuddin praised the initiative to auction the young players of the academy and thanked the federation's vice-president and chairman of development committee, Ataur Rahman Bhuiyan Manik, for making the academy dream come true.
"This is a proud moment because two years back I could never believe this will become a reality.
"The camp for the girls' team and their success is what motivated us to start this academy. Manik took a brave decision in this regard," Salahuddin said in his speech.
Manik informed that the players will get 40 percent of the auctioned price while the rest will go to the BFF coffers.