Another SAFF winner bids goodbye to football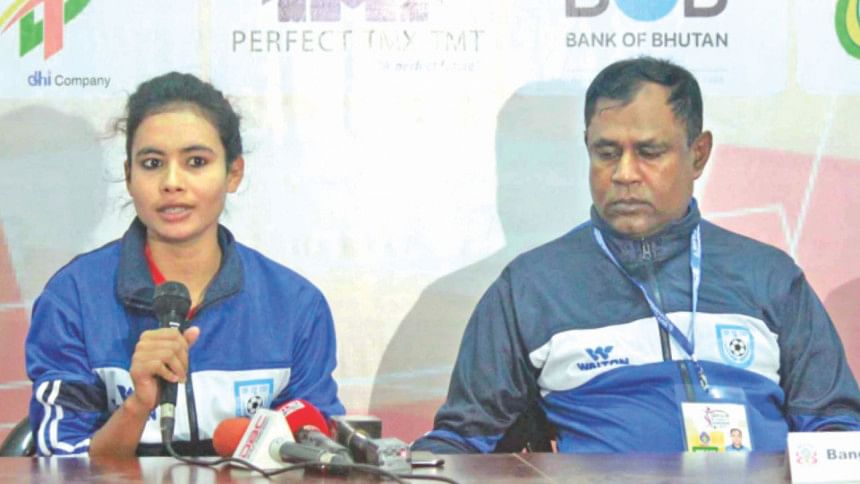 SAFF Women's Championship winning striker Sirat Jahan Swapna has announced her retirement from football through a post on her Facebook account.
Swapna was one of the most reliable strikers of the national team. She played a major role in the team winning the title by scoring four goals in Nepal last September.
However, she has decided to follow in the footsteps of Anuching Mogini and Sajeda Khatun earlier, who had also bid goodbye to football through social media posts. Both of them, however, took their decision after being left out of the women's team camp for future assignments.
It is believed Swapna took the decision due to frustration over not being able to play. The Bangladesh senior women's football team have not played a game since winning the SAFF title in September last year. The BFF had announced their intention to arrange international friendlies against Cambodia and Singapore, but failed to stay true to its words.
Some of the footballers had received offers from women's leagues in other South Asian nations, but those offers were denied in view of the proposed Women's Super League.
"I am retiring from professional football of my own accord. I have been fortunate enough to play professional football for about eight years. I got a lot of things after coming to football. Thanks and gratitude to Almighty Allah for everything. I have met many people through the game. So if knowingly or unknowingly I have hurt someone, take that with forgiveness. And everyone pray for me," Swapna's post read.
Swapna couldn't be reached for a comment over the issue as her phone was switched off.
Golam Rabbani Choton, the head coach of the women's team, said he and his coaching staff to convince Swapna to reverse her decision. 
"She has gone home with two days' leave," Choton told The Daily Star. 
"She is frustrated. She had an offer to play for Odissa, but didn't go due to the WSL. Now there is no certainty over the tournament. My coaching staff tried their best to make her change her decision. I told her your peak time will be coming up when you turn 24-25, but she didn't listen," the veteran coach added.