Alba to join 'Barca reunion' with Messi in Miami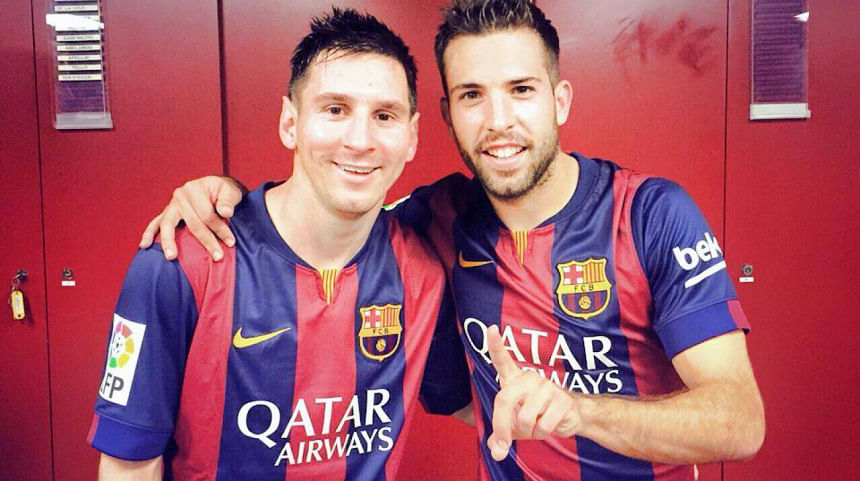 Former Spain international defender Jordi Alba will sign for Inter Miami and join up with former Barcelona team-mate Lionel Messi, with more new arrivals expected in the coming days, owner Jorge Mas said on Tuesday.
"Jordi Alba will sign today," Mas told a group of reporters after the team's training session.
Messi has already been joined by Spanish midfielder Sergio Busquets, another former Barcelona player, but the club are looking to add some youth to the squad which is struggling in last place in MLS.
Mas said that 20-year-old Paraguayan international defender Diego Gomez was set to join from Asuncion club Libertad.
Another young South American, 20-year-old Argentine midfielder Facundo Farias has a verbal agreement to join the club, said Mas.
The Miami owner added that talks are also underway with two young talents from the Argentine league -- Tomas Aviles, a central defender with Racing Club, and striker Brian Aguirre, of Newell's Old Boys.
But Mas said that any attempt to sign veteran Uruguayan former Barca player, Luis Suarez, was limited by his contractual situation with Brazilian club Gremio.
"Luis Suarez is a Gremio player. He has a contract. We understand the close relationship that he has with Lionel, Busquets and Alba. They played together at Barcelona.
"There's been a lot of talk about Luis Suarez coming to Inter Miami. We haven't held direct talks with Gremio or with Suarez.
"I don't know how Luis Suarez can leave Gremio. But if he does we are free to talk to Luis and bring him to Inter Miami. That possibility would be there," he said.
The 34-year-old Alba, who has made 93 appearances for Spain, terminated his contract with Barcelona in May.
Left-back Alba won six Spanish league titles with Barca and was part of the team which won the 2015 Champions League.
He also played in the Spain team which won the 2012 European Championship.
Messi and Busquets took part in their first training session with Miami on Tuesday, ahead of possible debuts on Friday against Mexico's Cruz Azul in the Leagues Cup.