Afghanistan footballers set to land tonight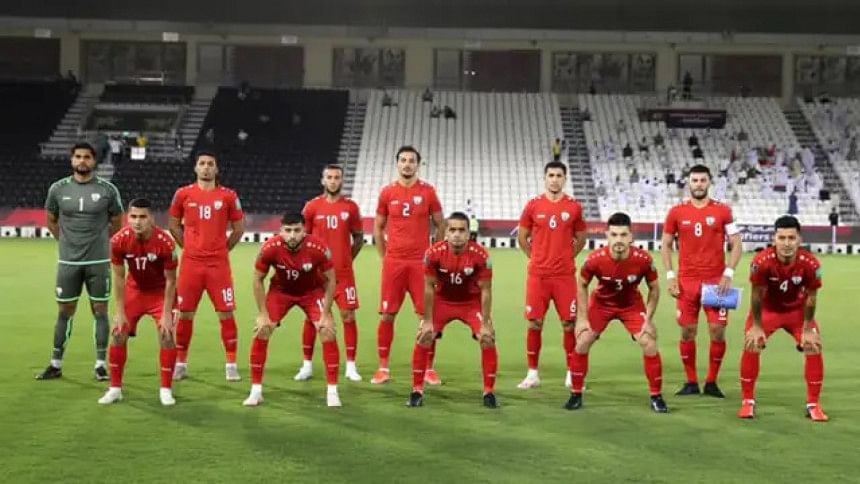 Afghanistan national football team are scheduled to land in Dhaka tonight, around eight days before their first of two FIFA-friendly matches against hosts Bangladesh.
Meanwhile, booters from Bashundhara Kings joined training camp yesterday following their AFC Champions League engagement. The Abahani-affiliated ones, after playing the AFC Cup, are set to join on August 27, a couple of days before captain Jamal Bhuiyan reunites with the group.
The majority of Afghanistan's 25-member squad are supposed to arrive first, while their foreign-born players from the Netherlands, Australia, Denmark, Sweden, Norway and others will start reaching the country from Sunday onwards. It has been learnt that two of their players will arrive in Bangladesh on the first match-day.
The visitors are supposed to check in at Amari Hotel in Banani and train either at the Kings Arena or Bangladesh Police ground, subject to availability.
The two FIFA-friendlies are scheduled to be held on September 4 and 7 at Bashundhara Kings Arena. Afterwards, Afghanistan will fly out here on Sept 8 to play another friendly against hosts Philippines on September 12.
Bangladesh-Afghanistan matches will serve as a tune-up for the two sides in their preparation for October's World Cup pre-qualifiers, where Bangladesh will face Maldives and Afghanistan will play against Mongolia.
Under the guidance of Kuwait coach Abdullah Almutairi, Afghanistan recently played two matches in CAFA Nations Cup. There, Afghanistan suffered 3-0 defeat to Kyrgyzstan -- a game which saw Afghanistan refuse to play after 97 minutes with Kyrgyzstan leading 1-0 -- followed by a 6-1 thrashing by Iran.
Since 2008, Bangladesh could hold Afghanistan to a draw four times but suffered defeats twice: 4-0 in 2015 SAFF Championship and 1-0 in 2021 World Cup Qualifiers.