Mourinho losing control as Chelsea unable to stop slide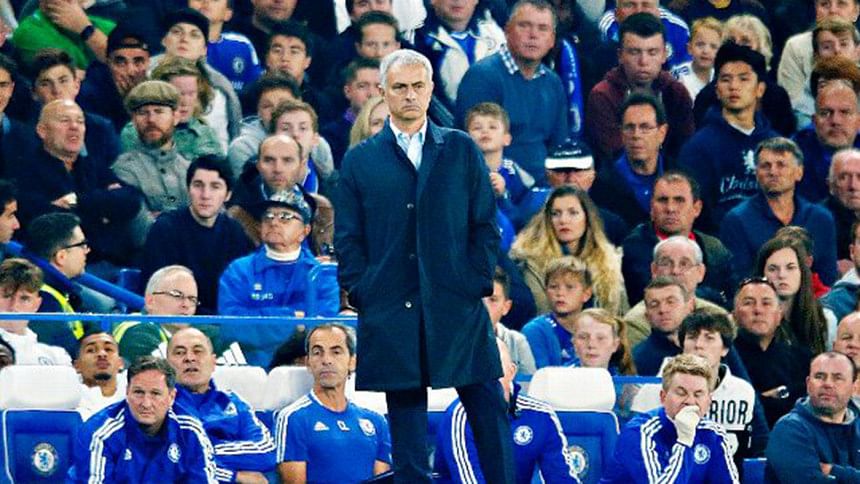 Jose Mourinho has lost control of Chelsea. Their slide has him cornered, forced to defend himself and even answer questions about his own future as manager.
In losing 3-1 to Southampton, Chelsea were unrecognisable from last season's Premier League title winners. The faces are the same, but this has become a team skirting a relegation place rather than sitting comfortably at the top of the table, as they were this time last year. And Mourinho himself has lost control of his own message.
The trademark confident swagger is lost, replaced by a shrill defensiveness that does nothing to explain why his team have dropped off a cliff. Mourinho himself is in uncharted territory, and he betrays a vulnerability he does not appear remotely comfortable with.
Things never got nearly so bad at Porto, Chelsea the first time around, Inter Milan or even at Real Madrid, where he eventually cut an isolated figure at the end of his tenure. After four defeats in eight Premier League matches, he already feels forced to defend his own legacy as Chelsea manager.
"I am not running away," he said during the rambling monologue that followed Sky TV's first and only question of a seven-minute, post-match flash interview. "If the club wants to sack me, they have to sack me. If they sack me, they sack the best manager this club has had.
"No way I resign," he said later in his news conference. "No way. Why? Because I have professional pride, and I know I am very good at my job. Secondly, I love the club. I want the best for my club, and the best for my club is for me to stay."
Such explicit statements threw down a gauntlet to the Chelsea hierarchy. Owner Roman Abramovich sat in his high-security executive box on Saturday evening and may not take kindly to have been given such a public ultimatum. The pair's previous parting of the ways, back in September 2007, took place when Chelsea were fifth in the table and not 16th.
Such unfamiliarity with his predicament has Mourinho wind milling in self-defence, thrashing in the darkness. In the tightest spot of his managerial career, he refuses to accept full responsibility. Breaking previous practices, he even singled out his own players with Nemanja Matic's form discussed openly.
"He's not the sharpest, he's not making good decisions," he said of the Serb, who has descended from being the engine of last season's title to a one-paced plodder who Southampton isolated and exposed in the period when they surged to a 3-1 lead. "I don't assess individually," Mourinho said later when asked about the performance of returned captain John Terry, forgetting he already coated off both Matic and Branislav Ivanovic.
It suggested a growing gap between him and his players to follow the myriad hints made this week that all is not well behind the scenes. Mourinho's dissatisfaction with summer transfer business and the departure of club doctor Eva Carneiro were already signs of an unhappy ship, but the problems are most clearly revealed by repeatedly dreadful performances on the field, where attack, defence and midfield are all equally listless.
"I assume my responsibilities, I think the players should assume their responsibilities," Mourinho said. "And there are other people in the club who should also assume their responsibilities."
This fourth defeat of the season, a second of the week after losing in Porto, owed much to his team's discomfort and disorganisation. They played, especially in the second half, as if confused and looked utterly short of inspiration to rescue the situation once Southampton had taken a deserved 3-1 lead.
Mourinho's attempts to revive the situation came to naught. Subbing off Matic just 28 minutes after his arrival as a half-time replacement was a move that could well threaten team spirit, whatever may remain of it at Stamford Bridge.
"The message is again the message of bad results that the manager is guilty," he said, referring to the eight other managers who have sat in his chair since that 2007 departure. "This is the message these players got for a decade."
As is habitual, the usual fallback of questioning match officials was employed but none too convincingly. Mourinho's suggestion that referee Robert Madley was afraid of awarding a penalty was mocked by Saints manager Ronald Koeman, who pointed to his own team having two calls turned away. "Maybe so. It would have been 5-2, then, even worse for them," the Dutchman said.
Suddenly a prodigal son who was welcomed back with such glee in the summer of 2013 and celebrated for keeping his team top of the league for the entirety of last season has lost his mojo. Mourinho at his best is unshakeable, impregnable, relentless. But this is a different Mourinho. This one fears for his future.