Mourinho blast triggered United fightback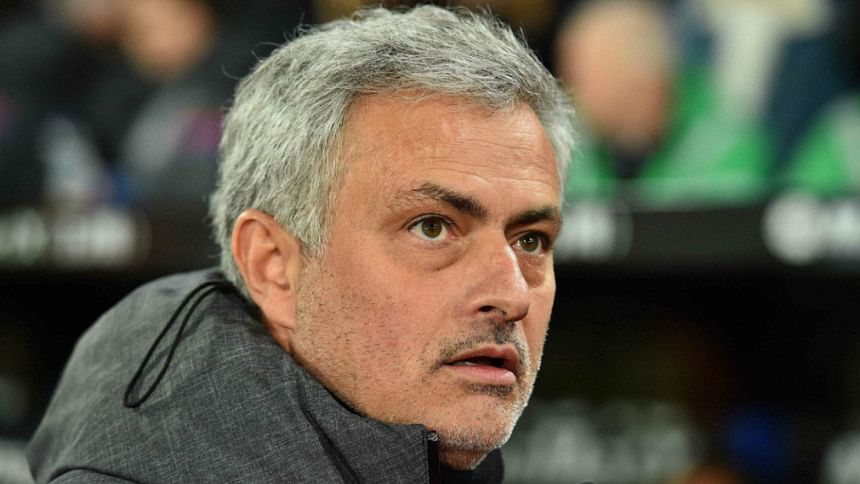 Jose Mourinho revealed his expletive-filled half-time rant inspired Manchester United's dramatic 3-2 win over Crystal Palace.
Mourinho's side fought back from two goals down at Selhurst Park to snatch the points thanks to Nemanja Matic's blistering long-range strike in stoppage-time.
United trailed to goals from Andros Townsend and Patrick van Aanholt before Chris Smalling gave the visitors a lifeline.
Romelu Lukaku equalised with 14 minutes remaining, setting the stage for Serbia midfielder Matic to notch his first goal for United since his move from Chelsea last year.
Mourinho admitted he was furious with his players' lethargic first half performance and he tore into them, while demanding they show more tactical discipline.
"I cannot tell you half of the things I told my team at half-time because there would be lots of bleeping on television," Mourinho said.
"There were a few strong words relating to their attitude and the intensity of the game.
"What I can say was all about the tactical positioning. That second goal was a goal to show kids in academies around the country, to show that top players can concede silly goals.
"David De Gea had to do better. He is the best, no doubt, but he had to do better.
"But the intensity and character was fantastic. We got a bit of luck in the last minute but it was deserved.
"The urgency in that last half hour was huge."
It was the first time United had come from 2-0 down to win a Premier League game since December 2013 at Hull.
After hitting back from a goal down to beat Chelsea last weekend, Mourinho insisted this was another demonstration that United have the spirit and desire to overcome perilous predicaments.
Keep the faith
"We were losing to Chelsea last week, then we were losing away from home against a Palace team that needs points," he said.
"It's very hard but we kept faith and belief.
"I always believe we can win. I will be like that until my last day.
"Some days more than others but after Smalling's goal, I always thought it was possible.
"Matic scored amazing goals like this when he was with me at Chelsea, at Goodison Park, against Benfica."
United's stirring revival moved them back above Liverpool into second place in the Premier League.
They trail runaway leaders Manchester City by 16 points, but Mourinho is more concerned with securing the top four finish that guarantees qualification for next season's Champions League.
"We want to finish second, but it is huge pressure for us to finish in the top four. Now we have a little pillow," he said.
Palace remain in the relegation zone, one point from safety, but Eagles boss Roy Hodgson urged his players not to let the heartbreaking defeat influence their fight for survival.
"We took the game to Manchester United. If we had drawn the game - I don't think anyone, Jose included - would have said it was a scandal," he said.
"We once again go away with no points and, like the game against Tottenham, I thought we deserved something.
"But you always know the quality they possess and the strength and depth they have. They can cause problems.
"Where we are in the table doesn't enter my mind. It would have been nice to have two more points, but we still would have been very much in a relegation battle.
"It could well go down to the wire."