Messi's appeal against tax trial rejected by Barcelona court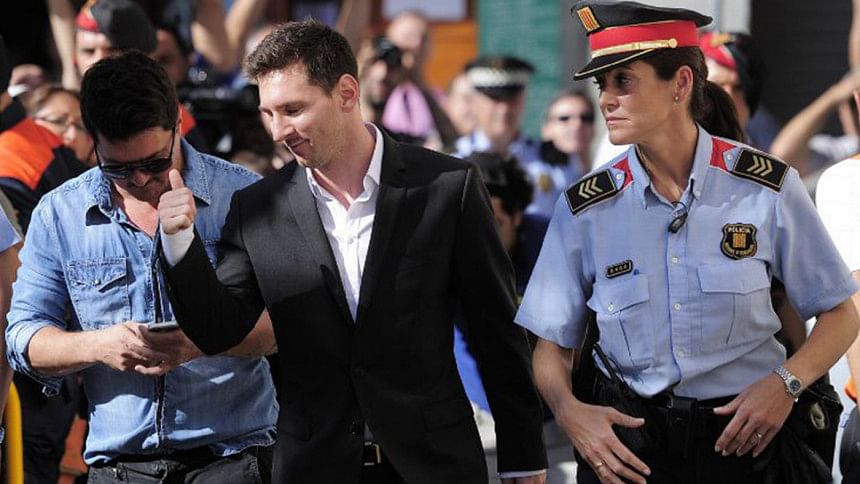 Barcelona star Lionel Messi is a further step closer to being tried for tax fraud after the city's highest court rejected his latest appeal which claimed the player should not be punished as he was not aware of how his tax affairs were being organised, according to a report in Spain.
Lionel and his father Jorge Messi both appeared in court in the Catalan town of Gava in September 2013, and their lawyers have since been taking a number of steps to try and avoid the Argentina captain being formally charged with an offence.
The latest ruling, as reported by Spanish newspaper El Pais, made by the Barcelona Provincial High Court, has found that Messi Jr. should stand trial over allegations that he benefitted from the network of companies which were established to deal with his financial affairs. Therefore it upholds a lower court ruling from last October that the player can be held responsible for any tax avoided in this way, but the ruling does not enter into whether the now 27-year-old was aware of what was being done in his name in the past.
The high-profile case has been taken as Spain's tax authorities maintain that "image rights" payments made to the player have been channeled through offshore tax-havens, leading to the evasion of €4.1 million in taxes between 2007 and 2009. If found guilty, both Messis could be fined up to €21m and receive a one-year suspended prison sentence.
At the Gava hearing almost two years ago, the Argentina captain said that he did not look after the details of his own finances, leaving such matters to his father and advisors. Messi Sr. reportedly told the court that he would take responsibility for any wrongdoing, that the family had been misled by unscrupulous financial advisors, and were now happy to make right any wrongs they had accidentally committed.
Since news of the issue broke during summer 2013 the Messis have reportedly paid €5m to the authorities, to cover money owed from the 2007 to 2009 period, plus interest. They are also reported to have paid €10m in taxes due on such income for the years 2010 and 2011.
It was hoped this would lead to criminal charges being dropped, and the public prosecutor's office had reportedly supported Messi's appeal believing this version of events. However the Madrid-based central tax office has continued to push the case.