Maybe it's me, Guardiola laments City lapses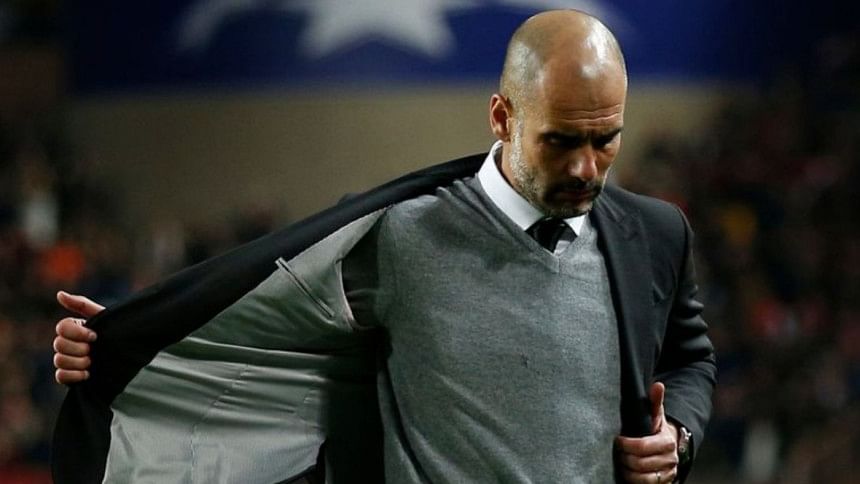 Manchester City manager Pep Guardiola admitted he is at a loss to explain how conceding multiple times in short spells continues to cost his side.
City must overturn a 3-0 first-leg deficit when they host Liverpool for the second leg of their Champions League quarter-final on Tuesday after being hit by a three-goal blitz in 19 first-half minutes at Anfield last week.
That was still 10 minutes slower than Liverpool's three-goal salvo at the start of the second half in a 4-3 Premier League win over City in January.
And Manchester United took just 16 minutes to turn City's 2-0 half-time lead into a 3-2 defeat and prevent their local rivals from sealing the Premier League title on Saturday.
City still boast a 13-point lead over United at the top of the table.
However, City's tendency to pay heavily for momentary lapses in concentration is a recurring theme of Guardiola's career.
His shots at Champions League glory in his first two seasons at Bayern Munich were also ruined by three goals in quick succession for Real Madrid and Barcelona in the semi-finals.
"I drop many times Champions League games for 10-15 minutes and I think a lot about that," said Guardiola.
"In Barcelona (against Bayern in 2015) 71 minutes (it's) 0-0, (at) 90, 3-0. Happen many times, maybe it is my fault. I have to think about it."
Before United's second-half revival at the Etihad, City should have been out of sight.
Goals from Vincent Kompany and Ilkay Gundogan put them in a commanding position, but they were left to rue two glorious missed chances from Raheem Sterling.
And in a recurring theme of his near two-year reign at City, Guardiola insisted his side needed to be more clinical rather than changing their style of play.
"I came here to try to do what we have done this season and in the first half.
"Maybe it is not enough to win (on the) European level or the Premier League. I will recognise I am not good enough or the way we want to play is not able, but I don't think so.
"Because what we have done in this season, in the first half and moments in the second half, I am happy (with).
"When you play against Liverpool, United or in Europe when you have your momentums you have to close the door and we didn't close it.
"And when you have to defend you have to really defend because they are good."
Real Madrid and Barcelona have combined to win the Champions League for the past four seasons and both look well on course to reach the last four once more.
And Guardiola believes City have to reach the standard set by the likes of Cristiano Ronaldo and Lionel Messi if they are to break through as a European powerhouse.
"Football in that level is (what happens in the) boxes," added Guardiola.
"When Madrid and Barcelona are always in front it is because they have players that when they have a half-chance they score two goals. At that level that is the difference."