. AFC U-16 Womens Championship
Hosts face Taipei today in potential group decider
Hosts Bangladesh will be looking to put one foot in the finals of the AFC U-16 Women's Championship when they take on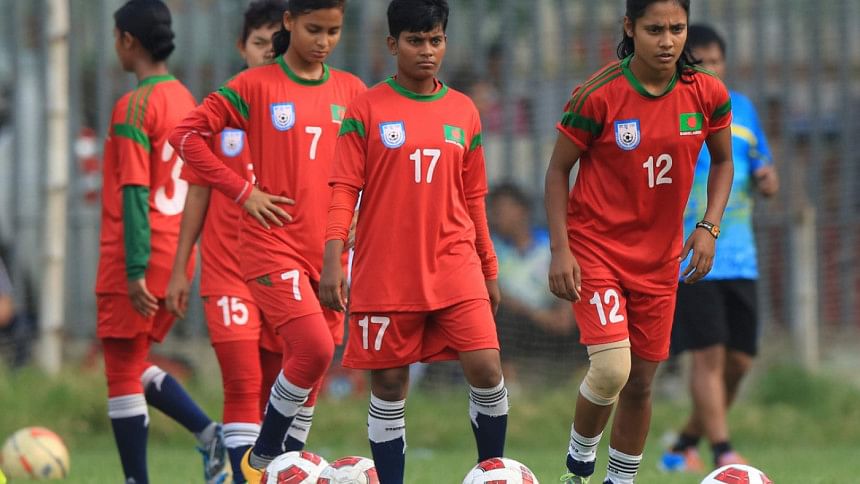 Hosts Bangladesh will be looking to put one foot in the finals of the AFC U-16 Women's Championship when they take on Chinese Taipei -- the hardest opponents of group C -- in a crucial encounter today which might decide which team goes through to the eight-team final round for 2017.
The match will kick off at 6:00pm at the Bangabandhu National Stadium.
Both Bangladesh and Chinese Taipei have nine points from three outings, but Taipei are ahead with a two-goal advantage. With only a single match-day left, the penultimate match between the two strongest sides of the group has literally turned into a battle for the top position of the group.
Chinese Taipei, who played in the final round of the 2015 edition in China, have already proved their worth by comprehensively beating the bottom three teams -- Kyrgyzstan, Singapore and United Arab Emirates. They have scored 21 goals and conceded a single goal in three matches. Bangladesh, on the other hand, were not the favourites at the start, but proved their mettle by beating Iran, Singapore and Kyrgyzstan – scoring 18 goals in total and not conceding a single goal yet.
The fact that Chinese Taipei have conceded a goal and that too against a weak Kyrgyzstan side is what is gives the Bangladesh think-tank some encouragement.
"We could hardly find any weakness of the Chinese Taipei team as all the matches they played were one-sided affairs, but it seemed to me that if our players can put pressure on them, opportunities will be created. A team like Kyrgyzstan scored a goal against them while UAE also penetrated their territory," Bangladesh coach Golam Rabbani Choton evaluated. "Definitely, Chinese Taipei are a strong opponent who have some skilful players but we will surely go for a victory."
Choton has been showing video footages of the opposition teams since before the start of the qualifiers. He has now shown footage of Chinese Taipei's last three matches and the girls themselves have identified strong points of their opponents. The Bangladesh coach is aware of the strength of the opposition, who build the game through the flanks and keep trying from distance.
Replying to a query, Choton said: "Our girls have already proved against Iran that they can attack and come down quickly to defend; so playing up and down simultaneously will not be a problem for us."
The coaching staff had particular training sessions with the girls, especially with defenders and goalkeepers, keeping the threat of the opposition in mind. The players are also confident about producing their best performance against Chinese Taipei before taking on UAE in their last match on Monday.