'A historic deal'
BPL rights officially sold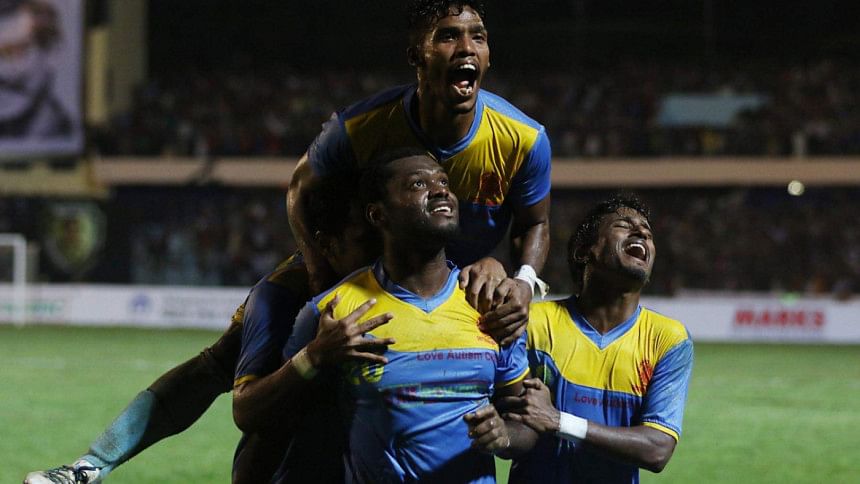 The Bangladesh Football Federation (BFF) yesterday signed a Memorandum of Understanding (MoU) with Saif Global Sports Limited, a sister concern of Saif Powertec Limited, for the organising rights of the Bangladesh Premier League (BPL) for the next five years.
Saif Global Sports Limited will provide the BFF with Tk 4 crore each year for the marketing and branding rights.
BFF president Kazi Salahuddin and Saif Powertec Limited's managing director Tarafder Ruhul Amin signed the contract on behalf of their respective organisations.
The BFF president termed it as a historical deal.
"Today is a historical day for Bangladesh's football," Salahuddin said during the ceremony held at a hotel in the capital. "This is the first time that we sold all the rights of the BPL. This is a new concept as we are trying to decentralise football across the country. Developing the game is not possible if it is held in only one stadium."
The league is scheduled to kick off from July 15 at six different venues across the country.
A team of officials comprising representatives of BFF, National Sports Council and Saif Powertec recently visited seven venues in Dhaka, Chittagong, Sylhet, Rajshahi, Barisal, Mymensingh and Gopalganj.
"Out of 132 league matches, we are going to hold 110 matches outside the capital which means people from division and district level will get to see the games. We had made a promise on our election manifesto that we would take football to district level and this will be the first step," said Ruhul Amin.
Deputy minister for youth and sports Arif Khan Joy assured that the government would renovate the venues before the start of the league.