Hiatus ends with fighting draw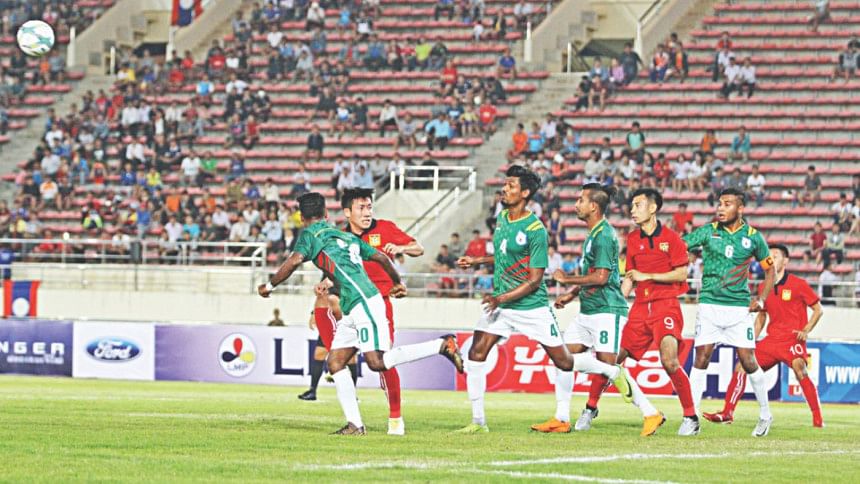 Bangladesh made their return to international football a memorable one with a come-from-behind 2-2 draw against Laos in Vientiane yesterday.
Two dreadful errors from defenders had given Laos a 2-0 lead at the end of the first half as the hosts looked to be taking a stranglehold on the game between the two lowly sides in FIFA ranking. However, the Bangladeshis upped their game quite a few notches after restart and came out with a creditable draw, courtesy of late goals from young forwards Jafar Iqbal and Mahbubur Rahman Sufil.
This was the first international game for Bangladesh since their 3-1 defeat against Bhutan on October 10, 2016.  While that humiliating defeat brought an end to Bangladesh's Asian Cup qualification hopes together with the short stint of Belgian coach Tom Saintfiet, yesterday's draw will likely come as a shot in the arm for the team and new coach Andrew Ord, who was standing at the Bangladesh dug-out for the first time since his appointment in June, 2017.
The game played before a sparse crowd on the bumpy pitch at the Lao National Stadium was a story of two halves as the hosts bossed while the visitors struggled to find a foothold. Laos, ranked 183rd in FIFA against the 197th ranked Bangladesh, started the game briskly, but it was Bangladesh who had the first real opportunity to get ahead.
The Bangladesh players showed individual skills but there was a clear lack of cohesion going forward and discipline at the back for which they had paid heavy. Veteran right-back Mamun Miah gifted the hosts the opening goal on the half-hour mark as he failed to properly control the ball during a Laos attack, and instead of trying to clear the danger, allowed opposition striker Phithack Kongmathilath to pounce on it and poke it past goalkeeper Ashraful Islam Rana.
The second goal came on the stroke of half-time, with substitute midfielder Mashuk Mia Johnny bringing down a Laos forward just inside the box. Kongmathilath stepped up again to dispatch the ball past Rana as Ord's charges went into the break facing defeat.
The Australian coach made a string of substitutions, as is usually the norm in international friendlies, and those substitutions seemed to inject some much-needed pace to the Bangladesh attack. Sufil, Jafar and Waly Faisal applied tremendous pressure down the flanks as the hosts' defence became increasingly jittery.
Jafar then produced a moment of intelligence, flicking with the side of his boot to beat Laos goalkeeper Outthilath Nammakhot from a scramble inside the box on 82 minutes before Sufil completed the comeback with a placing shot after Topu Barman had teed him up with a header inside the box two minutes into added on time.