Guardiola refuses to start fresh Mourinho war of words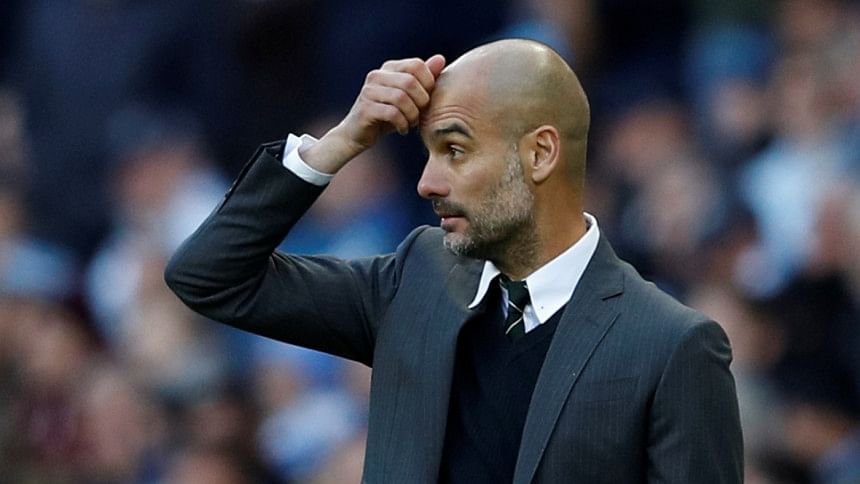 Pep Guardiola refused to be drawn into a war of words with Jose Mourinho after Manchester City maintained their impressive progress towards the Premier League title.
City stretched their commanding advantage at the top to 15 points over Manchester United as Raheem Sterling sealed a 1-0 win at Newcastle to record an 18th consecutive league victory, one short of Bayern Munich's current best for Europe's top five leagues of 19 straight wins.
United manager Mourinho attempted to provoke Guardiola on Tuesday after pointing to their rivals' huge spending power by claiming "City buy full-backs for the price of strikers" and insisting that the £300 million ($402 million) he has spent since taking charge at Old Trafford 18 months ago as "not enough".
Mourinho paid £93 million to sign France midfielder Paul Pogba, while also recruiting £30 million defender Eric Bailly, and midfielder Henrikh Mkhitaryan for £26.3 million.
This year, United spent £75 million on striker Romelu Lukaku, as well as £31 million on defender Victor Lindelof and £40 million for midfielder Nemanja Matic.
In comparison, City bought three defenders -- Kyle Walker from Tottenham for an initial £45 million, Benjamin Mendy from Monaco for £52 million and Danilo from Real Madrid for £26.5 million as part of a summer outlay that topped £200 million.
When asked about the comments made by the Portuguese, Guardiola said: "I'm so delighted to be here to speak about what happened on the pitch.
"About what happened with my colleague speaking off the pitch in the press conference, I'm not the right guy. You want to talk about what happened today on the pitch, I will answer."
City remain on course to win the title in record time after equalling Chelsea's English top flight record of 11 consecutive away wins.
But Guardiola will await medical updates on Vincent Kompany, after the injury-prone skipper limped off with a recurrence of a long-term calf problem.
- Terrible schedule -
City face a minimum of eight games in 34 days in a hectic start to the New Year, and Guardiola added: "Of course we are happy to break records but when we prepare for games we don't speak about them. Until now, we have found a way to win.
"I saw the schedule in my office the other day and I wanted to escape, because it's terrible. The games we are going to play, it's tough.
"We've played all these games in December then in January you have the Carabao Cup and FA Cup and then the return of the Champions League in February.
"It will be tough but it will also be tough for our opponents."
Guardiola's opposite number Rafa Benitez hit back at criticism of his negative approach after his team slid to a fifth consecutive home defeat, Newcastle's worst run at St James' Park for 64 years to leave them just a point above the bottom three after one win in their last 11 matches.
Substitute Dwight Gayle almost snatched a dramatic late equaliser to in-part justify the manager's ultra-cautious approach, and the Spaniard said: "We were in the game until the end and very close to getting a point against a very good team."
Newcastle face the key visit of relegation rivals Brighton before the turn of the year, and Benitez added: "We have a couple of games in the space of a few days against teams near the bottom of the table and hopefully we'll have some of our injured players back before then."