Fitness camp sans Kottan from Jan 20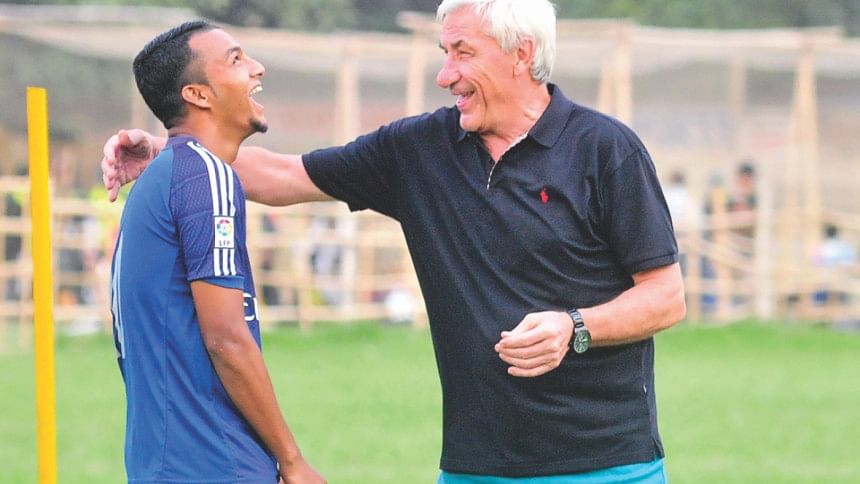 With Austrian coach George Kottan unavailable till the end of January due to his FIFA assignment in Scotland, the National Teams Committee (NTC) of Bangladesh Football Federation (BFF) sought two to three more weeks to finalise the appointment of the head coach of the national team.
The NTC, however, decided to start a fitness and assessment camp featuring footballers who have been part of the national team in the last nine months, under the existing staff, from January 20 to February 8.
"As our ultimate target is to produce a good result in this year's SAFF Championship, we need a long-term plan. We are in the process of appointing a head coach. We have already talked to one of the coaches but no one can join us until February 2 to 4. That's why we are taking time to appoint the coach. We have come to an end of discussion with one coach but we have kept the matter suspended for the time being as we will invite a few more coaches," said NTC chairman and BFF vice president Kazi Nabil Ahmed after a meeting at the BFF House yesterday. 
The NTC is likely to unveil Kottan as the head coach in early February after finalising all terms and conditions upon his arrival and ahead of the start of Sheikh Kamal International Club Cup tournament, scheduled to start from February 18 in Chittagong.
"A talk hit the headlines in the last six months that our players are not fit and they can't perform consistently and fail to perform beyond 60 to 70 minutes of matches. We have already discussed the issue with our technical staff. Now we want to see where our national players stand at the moment. If we get an assessment of the players' fitness, then it will help us evaluate which kind of coaching staff we will need for the national team," said Nabil.
NTC members Satyajit Das Rupu and Amirul Islam Babu, local coach Syed Golam Jilani, fitness coach John Whittle, goalkeeping coach Ryan Sandford and technical director BA Jubair Nipu have been given the responsibility to make a list of over 30 players who were with the national team over the last six to nine months. Jilani and Sandford will conduct the fitness training camp at the BKSP.