Fifa suspends Blatter, Platini and Valcke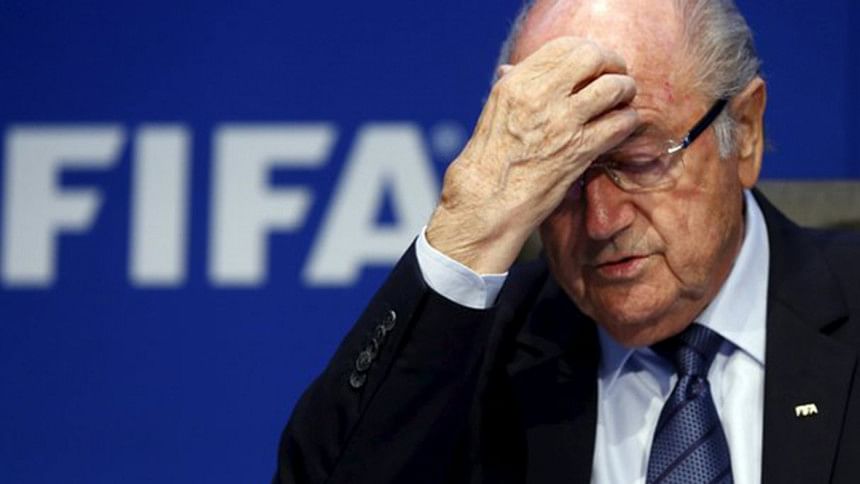 Fifa has provisionally suspended its president Sepp Blatter, secretary general Jerome Valcke and vice-president Michel Platini for 90 days.
Former Fifa vice-president Chung Mong-joon has been banned for six years and fined 100,000 Swiss Francs (£67,000).
The punishments were handed out by the ethics committee of football's world governing body.
Blatter, Valcke and Uefa president Platini are being investigated by the committee over corruption allegations.
"The grounds for these decisions are the investigations that are being carried out by the investigatory chamber of the ethics committee," it said in a statement.
The three are banned from any football activity in the interim. They deny any wrongdoing.
Fifa's ethics committee began its investigation into Blatter after the Swiss attorney general opened criminal proceedings against the 79-year-old.
He is accused of signing a contract "unfavourable" to Fifa and making a "disloyal payment" to Platini - who is also president of European football's governing body, Uefa.
The ethics committee also opened an inquiry into Platini over the 2m euro (£1.35m) payment - which was made nine years after the 60-year-old carried out consultation work for Blatter.
Valcke was already on gardening leave from his Fifa post following newspaper allegations last month which implicated the 54-year-old in a scheme to profit from the sale of World Cup tickets.
Earlier this year, United States authorities indicted 14 Fifa officials and associates on bribery and racketeering charges. A simultaneous Swiss investigation was started into the bidding process for the 2018 and 2022 World Cups.
Just two days later, on 29 May, Blatter won a fifth consecutive Fifa presidential election. However, on 2 June he announced his decision to step down in the wake of the corruption allegations.
He is due to finish his term at a Fifa extraordinary congress on 26 February.