Feni, Baridhara AWOL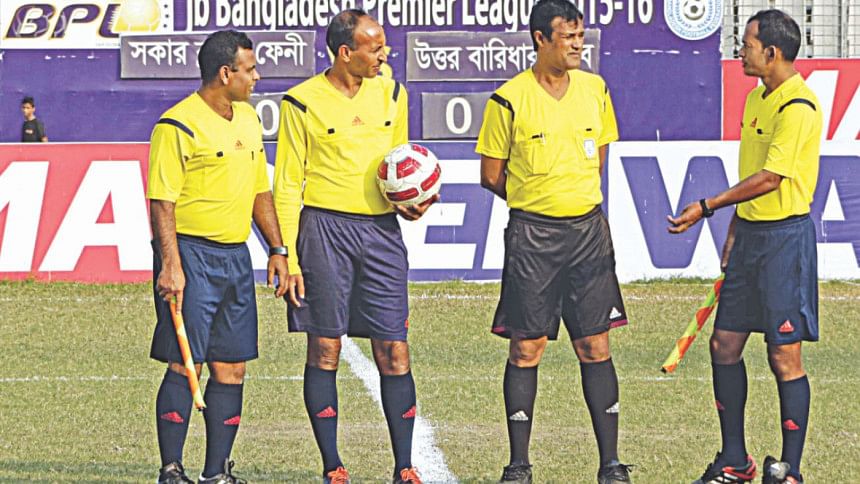 The first leg of the relegation-deciding playoff of the Bangladesh Premier League between Feni Soccer Club and Uttar Baridhara Club was abandoned yesterday after neither of the teams turned up at the Bangabandhu National Stadium.
There was every arrangement made by the game's governing body to hold the match as scheduled and referee Jasimuddin waited for 15 minutes before blowing the long whistle as the teams failed to show up. Both teams had on Monday expressed their unwillingness to play the playoff despite Bangladesh Football Federation's insistence on holding the fixture as scheduled.
"As per the by-laws, if any team do not participate or refuse to play in any match, it will be considered that they did not take part in any matches of the competition and will be demoted from the league," professional football league committee's vice chairman Abdur Rahim said, adding that points those teams secured in the league or tournament would also be considered null and void.
Asked if the points of Feni Soccer and Uttar Baridhara will be considered null and void, then would there be changes in the final standings of the league, Rahim said: "As we are facing such a situation for the first time, we have to review the situation and take a decision accordingly. However, we have not taken any decision as yet. The Disciplinary Committee will first take a decision and then the league committee or BFF executive committee can impose additional punishment on the teams."
As per article 8 of the by-laws, on the basis of referee and match commissioner reports, the disciplinary committee will take action against the clubs as per disciplinary code, which also states that if any team refuse to play, a minimum of Tk 100,000 will be sanctioned while the match will be forfeited and the teams' acquired points will be deducted.
However, article 20.3.3 of the by-laws states that if any team withdraw after entering the competition, the team will be disqualified from taking part in the next edition of the competition.