Everyone to blame for Liverpool's leaky defence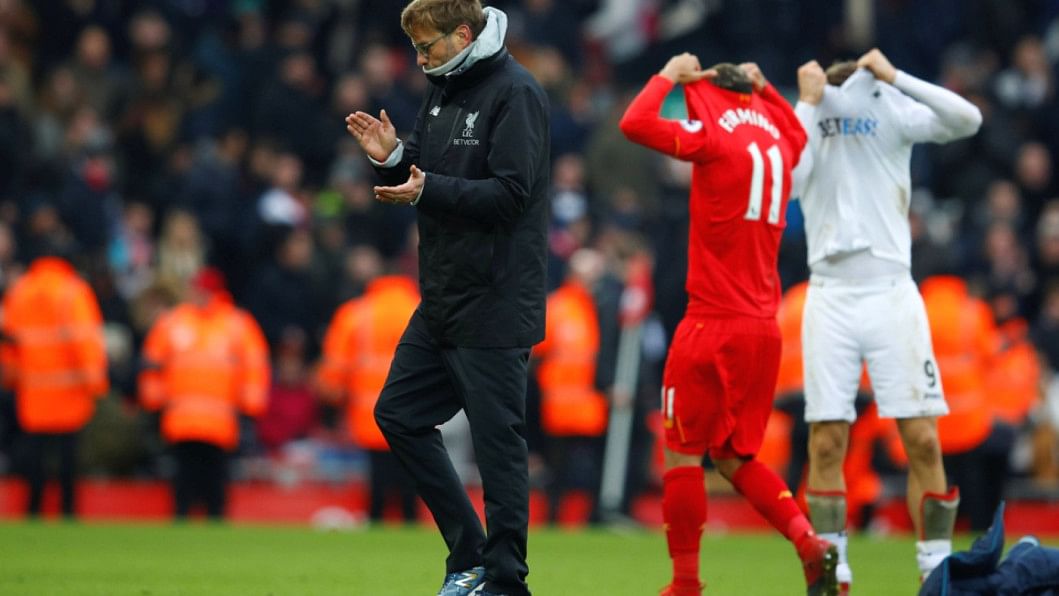 Liverpool manager Juergen Klopp has spread the blame for their leaky defence across the team as he prepares to pitch Cameroonian defender Joel Matip into Wednesday's League Cup semi-final, second leg against Southampton.
On Saturday, Liverpool conceded three goals at Anfield for only the second time under Klopp as they lost 3-2 to lowly Swansea City in the Premier League, a defeat that has seen them drop to fourth, 10 points behind leaders Chelsea.
But the German coach was in no mood to concede the league title, promising his side would "fight for everything" as they seek to shore up the back four and reproduce the flowing football that marked the first half of their season.
"The final mistake is sometimes goalkeeper or defender, but most of the time it's seven or eight players," said Klopp. "It's not about one player.
"It's clear what we did wrong and we really have to do better. If it was that easy to buy one player then all the problems are solved, I would be silly not to do it."
Liverpool have never lost when Matip has played and the 25-year-old seems likely to return to central defence on Wednesday following his problems with injury and international clearance.
Soccer's world governing body FIFA only gave Liverpool the go-ahead to play Matip last week after he turned down Cameroon's call-up for the African Cup of Nations, saying he had already retired from international football.
"He was injured for six weeks so we had to cope. Most of the time we did well - but obviously we are not happy about the recent games," Klopp said ahead of the League Cup clash.
Night Game
"It's a night game at Anfield, if the crowd is good then it would help," he added, with Liverpool, who lost to Manchester City in last year's final, trailing 1-0 from the first leg.
"I think I have played more against Southampton than any other team," noted Klopp. "In (the first leg) we knew it was not a good game for us. Still everything is possible for us."
Klopp also said he had spoken to Steven Gerrard about his new role as a coach at the club's academy, which the former Liverpool captain starts next month.
"We had a very good talk together," said Klopp. "For me it was important to know what Steven wants. He said he wants to be manager in the future. That's cool.
"We spoke about what I can do to help him... Being a manager is a job you have to learn. When a person like Steven Gerrard is ready to make the steps, that's wonderful news for Liverpool."