Turkey stay alive by ousting Czech Republic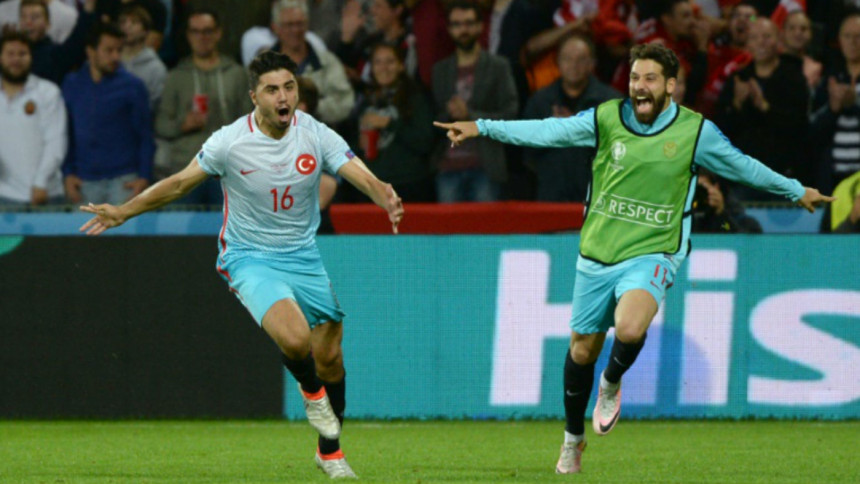 Burak Yilmaz and Ozan Tufan scored a goal in each half as Turkey beat Czech Republic 2-0 to keep alive slim hopes of reaching the Euro 2016 last 16 on Tuesday.
The defeat eliminated Czech Republic, who had already suffered at Turkish hands at a past Euro finals.
Turkey lost their first two Group D matches and were punished for their unruly fans. And there were more wild scenes in the stands as Turkey stole the match.
Eighteen year-old Emre Mor, who has just been signed by Borussia Dortmund, burst down the right after 10 minutes, saw Yilmaz in the middle and provided a perfect ball for the Beijing Guoan player to fire the ball into the corner.
In a closely fought contest that was Turkey's only entry into the Czech goal area in the first half hour.
Turkish goalkeeper Volkan Babacan produced a series of brilliant saves to keep his side in the game. He also had some luck when Tomas Sivok's header came off the crossbar.
At the 2008 Euro finals, Turkey came from two goals down to beat the Czech Republic 3-2.
And Czech veteran Jaroslav Plasil, who scored in that game, played a one-two with Borek Dockal and fired a 25-metre drive that was heading for the corner of the net before Babacan made a dramatic leap to push it wide.
The Czech Republic pressed forward but Turkey struck a killer blow on 65 minutes.
Selcuk Inan put across a free-kick that Mehmet Topal headed back and Tufan smashed a tight angle shot that powered past Petr Cech.
"It's of course a huge disappointment for everyone. We had it in our hands, unfortunately we failed. We started very well, they scored on the first attack and that was the breaking point," Cech told Czech television.
"If we played another four hours today, I think we would still not be able to score."
The three points ensured that Turkey could still reach the last 16, at least until the final round of group matches on Wednesday.
They will need results to go their way in the Group E games between Italy and Irish Republic and Sweden-Belgium, or for Hungary to beat Portugal in Group F, to pull off the miracle.
"Our only worry tonight was to win. I think we have an 80 to 90 percent chance of qualifying," said Turkey coach Fatih Terim.
"I recognise I made some errors during the first two matches, but our performance tonight was much better both technically and tactically.
"It was time to get back on our feet and we had a good reaction after being heavily criticised."
However, Turkish fans threw flares on the pitch to put their country at risk of new UEFA sanctions.
At least three flares landed on the pitch following the second goal. Turkey were punished after their fans set off flares in the stadium during their defeat by Spain last Friday.
At the end of the first half there was trouble between Turkish fans and stadium stewards after a firecracker exploded in the Turkish section of the crowd and stewards move in to find the fan responsible.