Confidence back in U-16s camp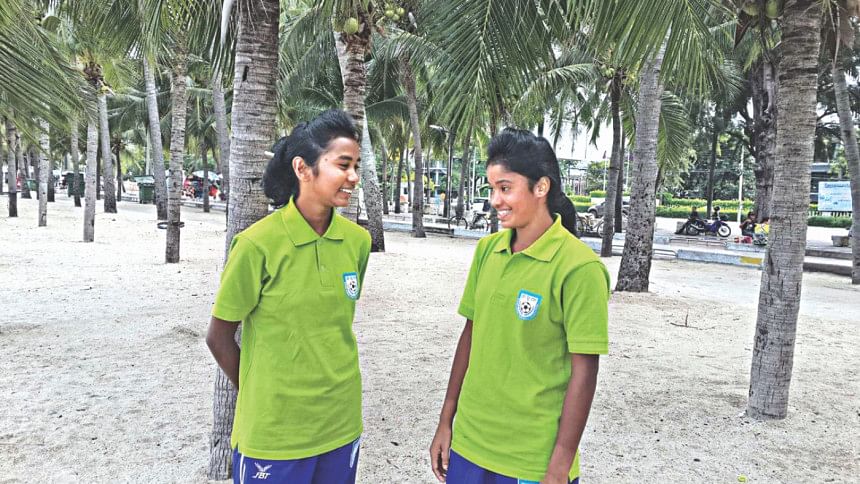 It seems the mood in the Bangladesh camp returned to normal having put up a brave performance against three-time champions Japan following their moral shattering 9-0 drubbing at the hands of holders North Korea in their opening fixture of the AFC U-16 Women's Championship.
The girls in red and green understandably lost sleep over the encounter with North Korea but finally found a sound night's rest and even looked cheerful after the match against Japan, who posted a 3-0 win over Bangladesh.
Goalkeeper Mahmuda Akter was at the centre of all the glee as the girl from Mymensingh proved brilliant under the post in the second fixture, thwarting a number of scoring opportunities to keep the score-sheet clean for the remaining 51 minutes after conceding the third goal.
Each and every one of her teammates hugged her while affectionately calling her 'Mamu' [Maternal uncle] after the match and hailed her valiant efforts with the gloves since she had returned to the position after being dropped.
"I had not performed well in the practice matches, which is why Ruksana [Begum] took my place, but I was given the opportunity in the latter part against North Korea and I played well. Then I was given another chance in the next match from the start. I wanted to give my best and I think I gave my best," explained Mahmuda, who was the first-choice keeper through the qualifying rounds where she conceded only two goals against the 26 that Bangladesh struck against five teams.
"My target was not to break down mentally if I conceded goals because Japan is a very strong side. Sirs [coaches] also told me not to lose concentration. I gradually grew confident after making some saves. I also never lost my concentration despite conceding three goals in the first half and that's the reason of playing well," said the 15-year-old goalkeeper, a former student of Kalsindur Govt. Primary School under Dhobaura Upazila. 
Meanwhile, assistant coach Mahbubur Rahman Litu supported Mahmuda all the way and helped her understand what is needed to regain her place as the starting keeper.
"We were upset with the defeat against North Korea but we came out of that shock. If we had dwelled on that defeat, then we would not have been able to put up a better performance against Japan. We forgot the 9-0 defeat and looked forward to the Japan match," Mahmuda added.
The five-player defence, too, proved noteworthy, especially in the second half where they stopped any further Japanese attacks.
Left-back Shamsunnahar believes that the performance they delivered against Japan was a show of their true skill as the defence adjusted to their job accordingly by learning from mistakes made in the previous match.
"We conceded goals against North Korea because of our mistakes but we rectified it in the practice session and did our best," said Shamsunnahar.
"If Japan gave 50, then we also gave 50 against them. As Japan play with crisp passing and attack quickly, we blocked them in those areas. In the second half, one of our defenders stopped their attackers and one snatched the ball from behind, which was the strategy to stop the Japanese strikers," continued Shamsunnahar, who along with Akhi Khatun, Masura Parvin, Sheuli Azim and Sanjida Akter, played tremendously well to keep their opponents at bay. 
"You saw our development against Japan. What we played against North Korea was not our real performance and like the countrymen, we were also disappointed with the result against North Korea and yesterday [Thursday] showed that we can also play football," concluded Shamsunnabar, who wants to display the same fighting spirit when they take on Australia on September 17.
However, Bangladesh and Australia have already been eliminated from the group stages and so this encounter is more for academic purposes.