Fabregas to put emotions on one side while facing Messi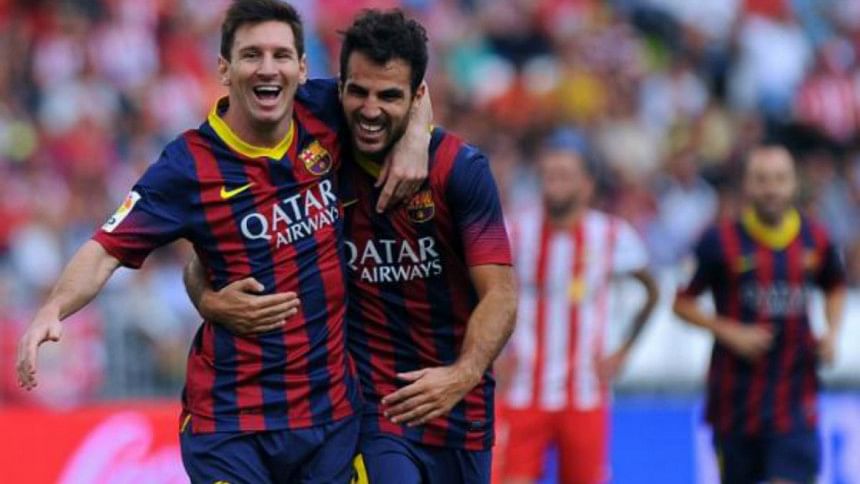 As Chelsea visit the Camp Nou for what would be another mouth watering Barca-Chelsea clash, rivalries will test friendships as Chelsea midfielder Cesc Fabregas is looking to ensure that friend Lionel Messi has a tough time on the pitch.
The first leg ended 1-1 as Messi broke his duck against Chelsea in his 10th appearance against the London club. The enthralling tie is one of the best matchups of recent Champions League history and emotions will be running high as the two sides meet in the second leg of the round of 16.
Fabregas said that he is looking forward to playing against friends on the pitch and suggested that he would do everything he can to thwart the Blaugrana players.
"I like playing against friends, you feel an extra motivation," he said when asked about his feelings about playing Messi and Pique, both of whom were with Fabregas during their formative years as Barca's famed youth academy La Masia.
He understood that he will find himself in similar areas of the pitch as Messi. Knowing the Argentine for so long, Cesc will look to use that knowledge to his advantage.
"If I am lucky enough to play, it's true that we are positioned in nearby areas of the pitch, stopping him will be difficult but I will try to do everything possible so that he feels uncomfortable and can't put together a perfect performance."
"I see him as a rival who wants to win, and I want the same thing. We are in different teams and each player wants what is best for their own club. Obviously, you always have respect for each other," he added.
Fabregas understands the problem of defending at the Camp Nou. Chelsea used a low block against Barca in the first leg with three in midfield complemented by five in defence creating a five-three or three-five defence and midfield structure to thwart Messi from finding space to exploit. But the Camp Nou, with it's wide pitch will mean that Chelsea defence will be stretched and space is likely to appear where Barca can take advantage.
"Yes, it's difficult as the Camp Nou is very big and you have to run a lot, but we'll work together. The key is to take advantage of our opportunities, we have to play our game but do damage when possible. I've never trained tactically as much as I have at Chelsea and it shows on the pitch, it's demanding but we end up benefitting from it."